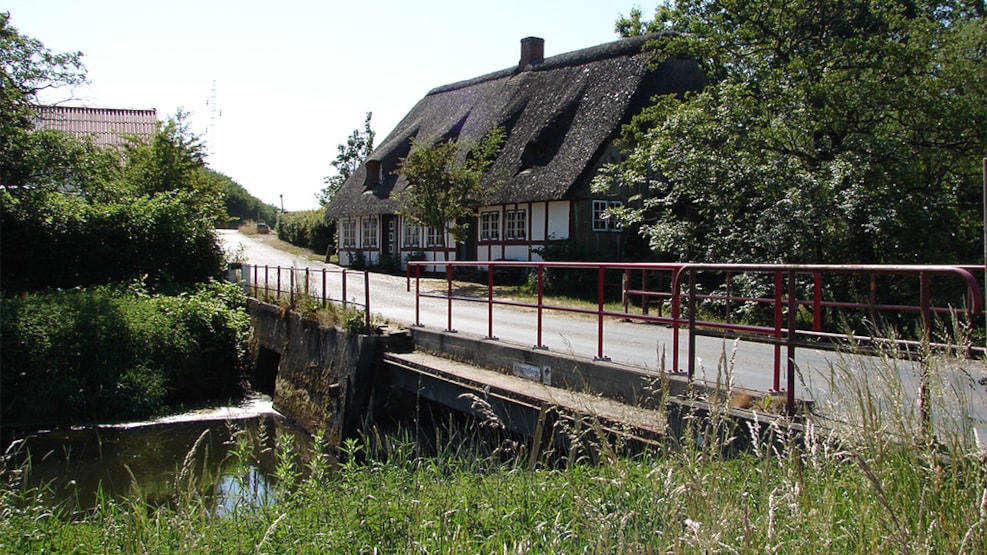 Knagemøllen
'Æ Knagemøllen', which is located about 3 km south of the motorway, is one of the most picturesque buildings by the river of Kongeåen.
The prefix "Knag" is believed to derive from "knogler" (bones), signifying that the watermill was formerly a bone mill, which served its purpose from 1830 to 1856. Here the bones of dead animals were ground to powder, which was then used by the region's farmers as feed and manure.
The mill section is located at the northern end of the half-timbered building, where a 4.5-meter wide waterwheel was powered by the river of Kongeåen. The dammed water continued along a channel besides the river. Unique to the mill, the miller's home was also located in the mill building itself.
In 1965, the mill was restored to its original state. The bone mill is heritage listed and is today a privately owned residence. There is therefore no access to the watermill. The Ancient Road hiking trail to which there is public access passes right by the mill. You can also see the mill from the waterside – on a canoe trip along Kongeåen.