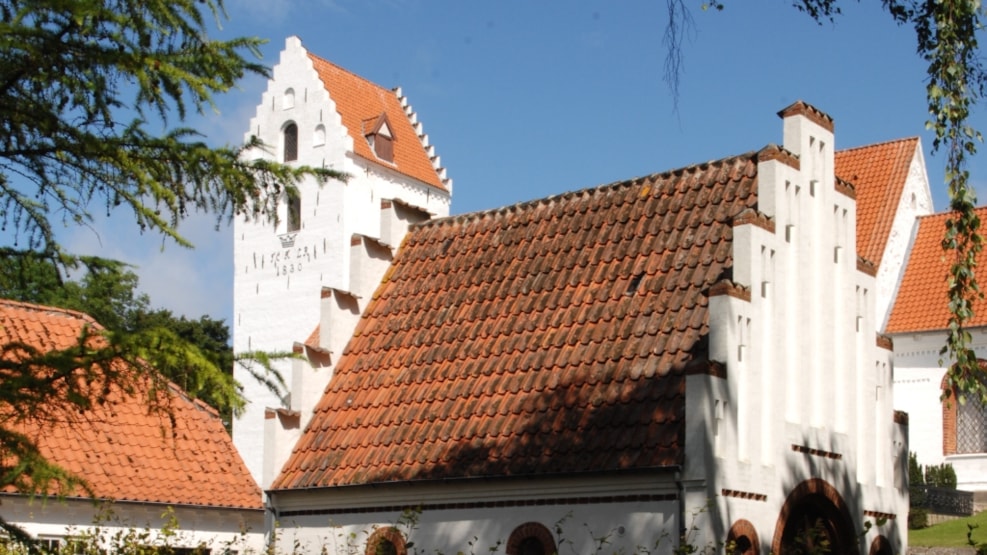 Lindelse Church
Lindelse has the longest church on Langeland. The beautiful old rectory also stands just to the south of the church.
In 1993 a thorough restoration of both the church buildings and its inventory was undertaken.

Histor
y
The nave, chancel and apse date from the late Romanesque period, while the porch and tower were added at a later date.The tower originally has a four sided spire, similar to the one that can be seen at Magleby church today. The church was originally built of brick on foundations of large field stones. A number of features of the original church building can still be seen, such as a few individual round arched windows. The half domed vault in the apse is also original. The rest of the church once had similar vaulting, but in 1845 the vaulting in the nave was replaced by an unusual barrel vault.
It is thought that the Count Ahlefeldt-Laurvig from Tranekær Castle became fascinated by Copenhagen's neoclassical cathedral, which features beautiful barrel vaults. Since Lindelse Church is the longest on Langeland, the Count attempted to recreate this type of vaulting when building work was carried out on the church in 1845.
Based on evidence such as the massive stone foundations under the tower, it is likely that at least one other church stood on this site before the present one.

Decoration
The altarpiece dates back to the beginning of the 16th century. The central section features a crucifix and scenes from the life of Christ at its sides. Depictions of the apostels can be seen on the wings and a pair of, now regrettably damaged, paintings of Saints Mary Magdalene and Margret. The pulpit was made in Renaissance style and has reliefs showing the fall, the crucifixion, the resurrection and the ascension.
The font is of a much earlier date than the church itself, perhaps giving further evidence that an earlier church may have stood on this spot.