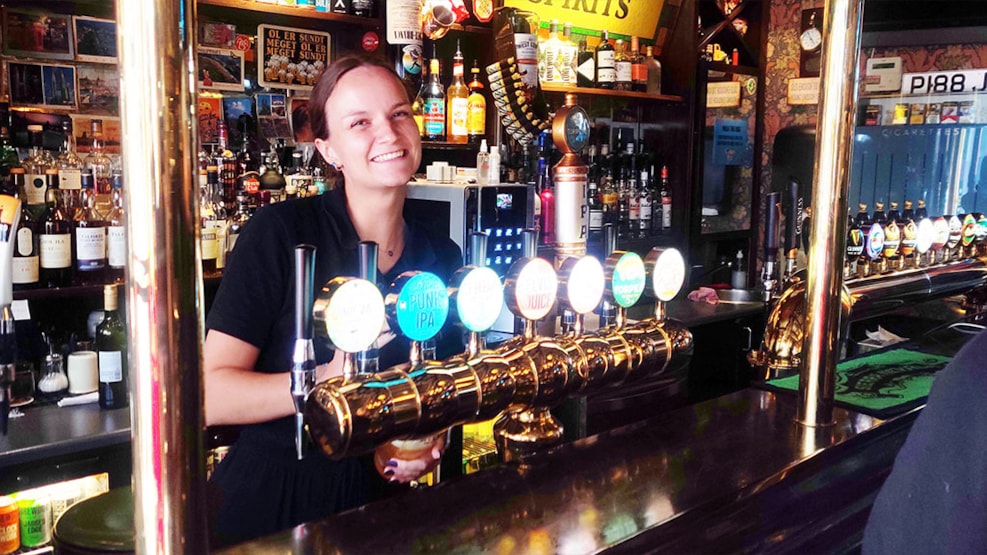 London Pub
London Pub is an authentic english pub with lots of wonderful beer from some of the best craft and commerical brewers in the world. London is the only certified "DogDealer" north of Århus, and centinually gets new exciting beers from BrewDog and other craft brewers, whilst keeping the best of them on the taps. There is 7 craft beer taps, 2-4 of them BrewDog, and a big assortment of BrewDog cans.
At London Pub there is always opportunity to try new and exciting beer. Among other taps, there is our guest taps, where relatively unknown craft-brewers in Danish context gets the opportunity to be served with the big guns. These counts everything from Refsvinding from Fyn, belgian Sloeber to the english Fuller's. You can always ask the amazing bartenders for advice, so you together can find the beer that fits your taste. of course London also has 10 taps with old reliables, as Guiness, Carlsberg, Tuborg Classic, Brooklyn og Jacobsen. There is opporunity to buy BrewDog cans to take home at a reasonable price.
If you're more into cider or drinks, London always have one cider from Westons on tap and 4 others in bottle. Otherwise London has there own set of cocktail, where especially BrewDogs creations in Gin, Rum and Vodka are absolutely wonderful in a drink.
Brewdog, the fiercly independent and carbon-negative craft brewery from Scotland has found its way to the taps and shelfs of London Pub. There is always at least 2 taps, and at least 10 different cans from Stouts to IPA's to Lagers, and we always keep there gin, rum and vodka. Brewdog is apart from other brewers because they fight for their craftmanship and independence from big companies while energy optimizing the craft and planting trees, so they pull at least just as much CO2 out of the atmosphere as they let out.
London Pub er utallige gange blevet tildelt Dansk Ølmærke fra Danske Ølentusiaster, og er et must-visit i Nordjylland for enhver øl-elsker.
London Pub is perfectly situated on 'Boulevarden' from which you can really feel the pulsating life of Aalborg. From April 1st to October 31st. the pub offers outdoor serving. You are off course also welcome to sit inside and enjoy an exciting football match, both from the Danish Superliga or other major leagues, such as Premier League and La Liga. Be aware that smoking is allowed inside.
London Pub has countless times been awarded the Danish Beer Mark from Danish Beer-enthusiasts, and is a must visit in Nordjylland for all beerlovers