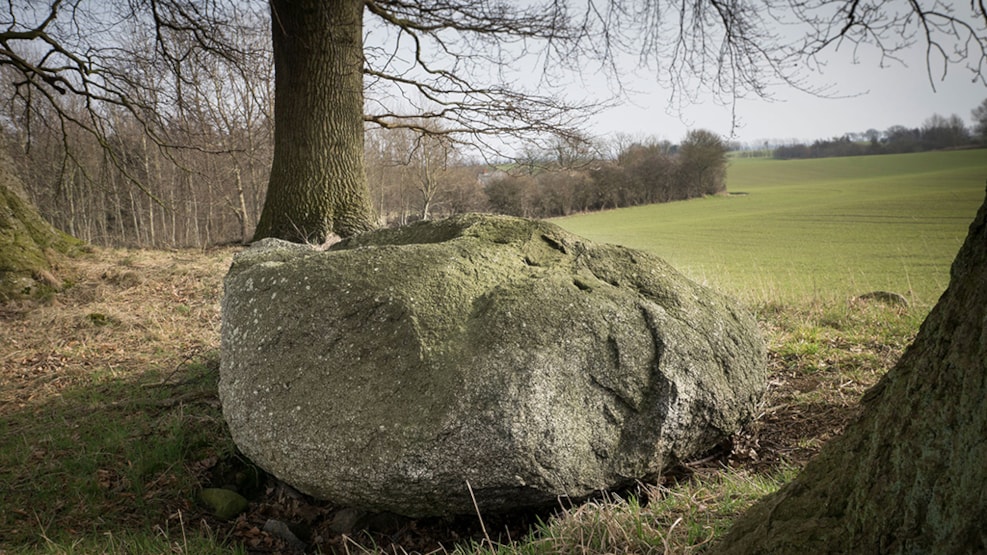 Long dolmen in Løkkeby
Long dolmen is located on an mound, on the mound there are several beeches and oaks.
The long dolmen is located at the highest point in the area with a view of the surrounding fields. Several large beeches and oaks grow on the mound, and with its location in the landscape, the ancient monument is a beautiful and impressive sight. The dolmen is located about one kilometer northwest of Spodsbjerg, and a little two kilometers south of Stengade. In both places, Langelands Museum has carried out excavations which have uncovered settlements from the Neolithic.
The long dolmen was uncovered in 1875, but was then overgrown with "dense shrubbery that makes it impossible to determine the exact provision of its extend". In 1899, the dolmen was registered through an agreement with farm owner Jens Pedersen. 15 years later, the dolmen was cleaned by the National Museum of the wild-growing scrub, and under the scrub were found a number of curb stones, all of which had been overturned.
Today, the monument stands as a magnificent example of a long dolmen where both the high-density and the chamber are apparently intact. The solitary deck is divided into two, possibly for natural reasons. But the marks that run parallel to the dividing line have undoubtedly been applied in connection with an attempt to split the stone.
(Source: "Fortidsminder på Langeland", Langelands Museum)