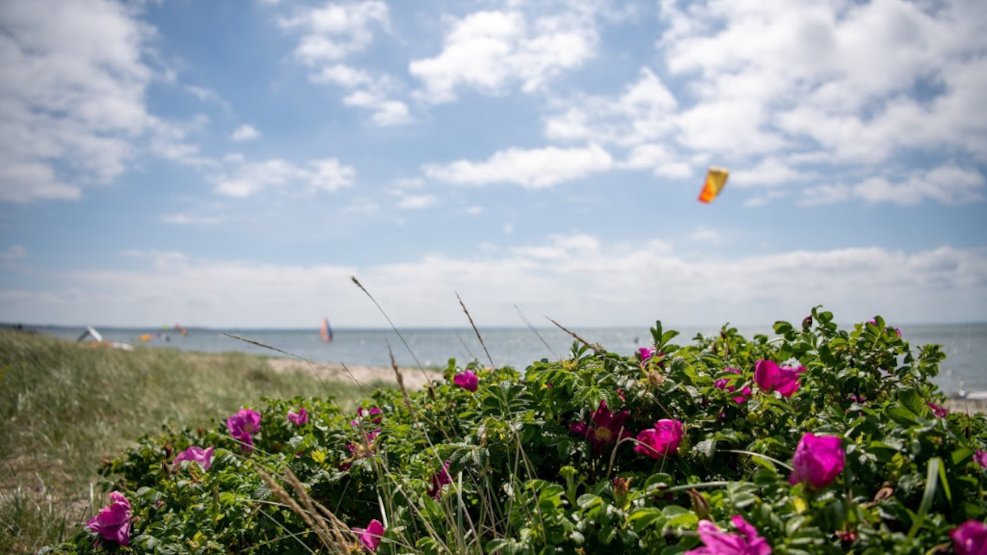 Lynæs Surfcenter
Lynæs Surfcenter, at Lynæs harbour, has the best setting for a great day by the sea, whether you are into water sports or not. The surf school offers rentals and lessons in kitesurfing, windsurfing, sup and kayaking. And in the surf café, you can buy all the day's meals, juicy burgers and cold drinks! In the cold months, it is highly recommended to jump in one of the hot saunas overlooking the beautiful Isefjord!
Lynæs is the perfect spot to try your hand at water sports in a safe environment. But Lynæs is also the ideal spot if you want to enjoy the sun, surf vibes and cold drinks in the shade. For a day or a weekend in one of the insta grammable surf shacks!
Lynæs Surfcenter can probably best be described as a "micro resort" with its roots firmly planted in the surf culture. The whole place is built up with an exceptional atmosphere, which makes you lower your shoulders as soon as you land, and it is open to everyone, whether you are surfing, sleeping, eating or just watching the sunset.
The surf school
The ultimate most crucial thing when trying your hand at water sports is safety. Lynæs has a large shallow rod which means that you can bottom almost anywhere. In addition to the large shallow water pole, Lynæs Strand is located inside a protected fjord, which means that it is never far to the other side and should the accident finally be out, then Lynæs Sea Rescue Service is on duty 24/7.
Lynæs Surfcenter teaches and rents windsurf, kitesurf, stand up paddle (SUP) and kayak. The teaching takes place throughout the summer, and it is highly recommended to combine a trip on the water with a trip to the sauna in the colder months!
Surf café
The massive piece of wood at Lynæs Surfcenter is the café. Here you can eat all the day's meals, juicy burgers, sourdough buns, sandwiches, and more during the summer months! There is also a large selection of wet goods: barista coffee, microbrewery, natural wine, and coloured drinks!
Note that the café changes shape depending on the season so that you can enjoy a delicious brunch in the winter months, for example! Remember to check opening hours and what concepts are open before your visit.
Surf camps
If you want the complete Lynæs experience, you must take an overnight stay in a "surf shack" or glamping tent. The surf camp is located right down to Lynæs beach and has a beautiful water view!
The accommodation is open from spring to autumn. You can book a stay without surfing or buy a surf camp, which combines surfing and sleeping. There are various camps for both children and adults - experienced and inexperienced.
Events
Lynæs Surfcenter holds a lot of different events throughout the year. It is highly recommended to look for when open-air concerts, banquets or music quizzes are held! It is also a great experience to come by when the Danish Championships in kitesurfing are held when Denmark's best kitesurfers compete to get the highest and make buckets! Always check if you need a ticket for the various events before you arrive. Some events are free; others have admission.