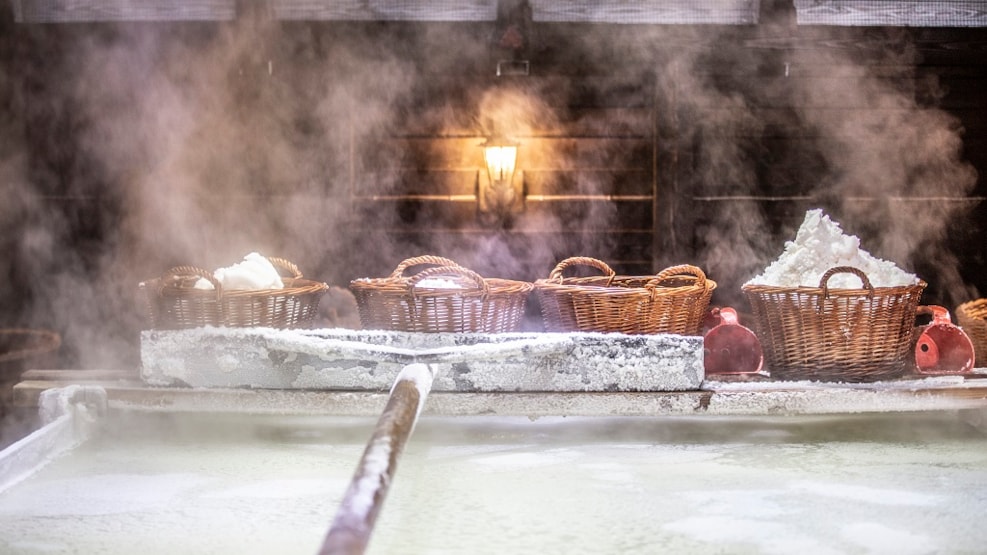 Mariager Saltcenter
At Mariager Salt Center, you step into a world of salt. Here, you can explore the magic and fascinating history of salt and experience a world that few know about or have heard of.
Experience Our World Of Salt
Ever wondered what your life would be like if you did not have salt? How your food would taste, how many products you would miss? Now you can find out at Mariager Saltcenter, located right at the harbour in the city of Mariager.
Since the Middle Ages, people in this region have been extracting salt. And now we have made it possible to explore the history, feel the magic of the 'White Gold', learn more, play, taste, feel – and even buy great salt products in our store.
When you enter our world of salt, you will experience an attraction based on interesting facts, history, geology and activities designed to make you think. Dress in your swimwear, dive into our Dead Sea and feel the healing effect of wellness with salty skin care. Come enjoy your body floating like never before. Have a seat in our cinema. Explore our seething master as he makes salt in our brand-new seething hut. Explore the virtual ride '138 meters down' in the mineworkers' elevator – and round out your experience by enjoying a great meal served on the dock.
Café Salt
After your bath, you can enjoy a delicious meal at Café Salt. The café offers several tasty lunch dishes such as sandwiches, delicious salads, and much more. Enjoy your lunch on the terrace outside, perfectly situated by Denmark's most beautiful fjord.
Even on a rainy day, you can sit outside on the terrace without getting wet. There are four greenhouses where you can enjoy your meal and the view of the water - sheltered from the Danish summer weather.
If you want to relax and spend some time here, we suggest you take a walk around the city of Mariager. You will love the quiet pace in this Cittaslow city with its interesting character and its people dedicated to improving the quality of life. Go shopping and you will be amazed by the old houses, the cobbled stones, the roses and the friendly people ready to guide you and make you feel welcome.
Just wait and see.
Visit the Salt Shop
Conclude your visit with a trip to the salt shop, where you can buy the famous Mariager flavored salts, among other things. In the shop, you'll also find salt cellars, crystal soaps, salt lamps, and more delightful gifts for any festive occasion.
The Salt Shop is also available online, so you can always order salt to your home - for example, as a lovely hostess gift.
Find opening hours and learn more about the possibilities at www.saltcenter.dk.
Right outside the door, you'll also find the Tour Boat "Svanen" and the Mariager - Handest Vintage Railway.
Just like the beautiful hiking route "Mariager Rundt" of approximately 11 km passes right by the Mariager Salt Center.
Eco-friendly Travel by Bus and Train in Northern Jutland
Getting around in Himmerland and the rest of Northern Jutland is easy with public transportation. Plan your journey by bus, train, and Plustur on rejseplanen.dk.