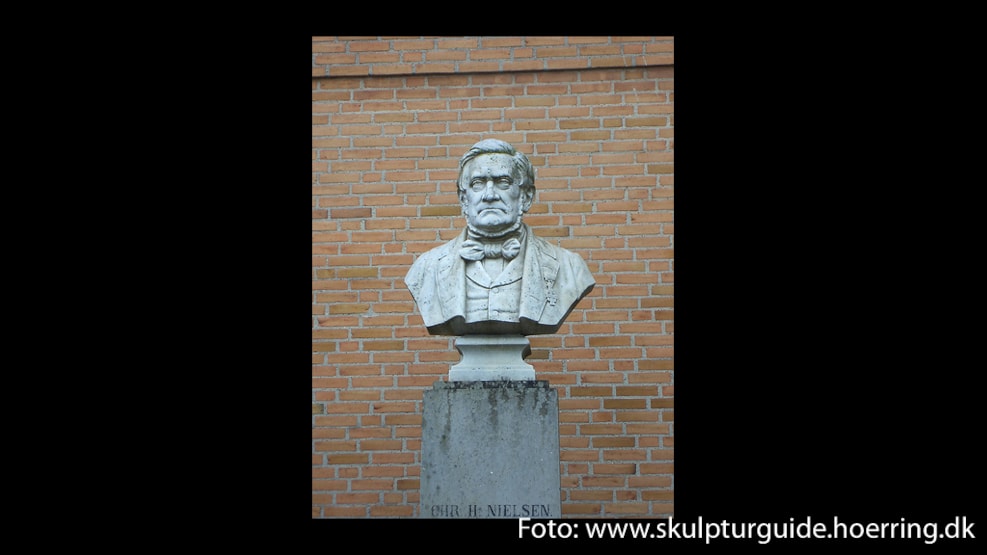 Marmorbuste af Chr. H. Nielsen
Marble Bust of Merchant and Councilman Chr. H. Nielsen(1880-1881), Paulsen, Andreas: 1883. Hjørring
Chr. H. Nielsen was one of Hjørring's founding fathers. He started a bank, a newspaper, a steamer company, a library, and had roads built, thus aiding in establishing Hjørring as a growing provincial capital.
Bust of one of the most enterprising citizens from the 18th Century and tells us also something about the town's self-understanding.
Christian Høygaard Nielsen was such a figure and his importance to the town was very extensive: He droves merchant trading and arms trade with Norway, and was in 1837 a member and lay chairman of the town's first municipal council. He initiated the construction of roads to Frederikshavn and Lokken, he was one of the founders of Dampskibsselskabet (Steamship)Vendsyssel and Hjørring Discount-Bank, he founded Hjørring Amtstidende(newspaper) and created the town's first public library.

He also succeeded in becoming Consul to: Sweden, Norway, Holland, Belgium, Russia and Germany.

Andreas Poulsen has portrayed this enterprising man as both an adult and gracious gentleman who looks out over "his" town.
.