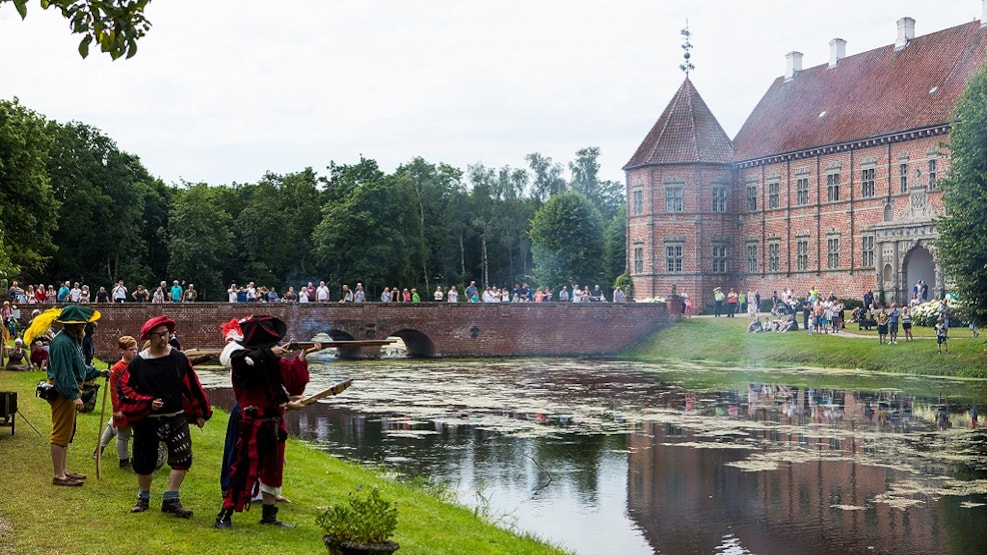 Medieval Days at Voergaard Castle
Take the whole family for a trip back in time to the year 1533 - on a picnic in the Middle Ages
With the sword in hand you are ready to set out for an adventure at the Medieval Days at Voergaard Slot.
Every year in week 29 in July, the castle rises once again, and figures from the Middle Ages will walk around the lands of the castle. During these fun and adventurous days, you will experience music and entertainment, arts and crafts, living history and storytelling, food and beverages from the Middle Ages, play and games and gunpowder, beautiful maidens and strong lads. And many, many more impressions and experiences awaits you.
Evert year, 25.000 - 30.000 people come to visit the Medieval Days. It's a great place for children's families, who visits in 3 or even 4 generations together - making it an annual tradition! What could be better on a summer day to pack a picnic basket and a blanket and bring it for a good family time under the linden trees by Denmark's most beautiful castle? Not to mention all the experiences that awaits the whole family. Bring your family for a travel back to the Middle Ages.
The Medieval Days are open every day in week 29 from 10 am - 5 pm.
Welcome to the Medieval Days at Voergaard Slot - an experience for the whole family.