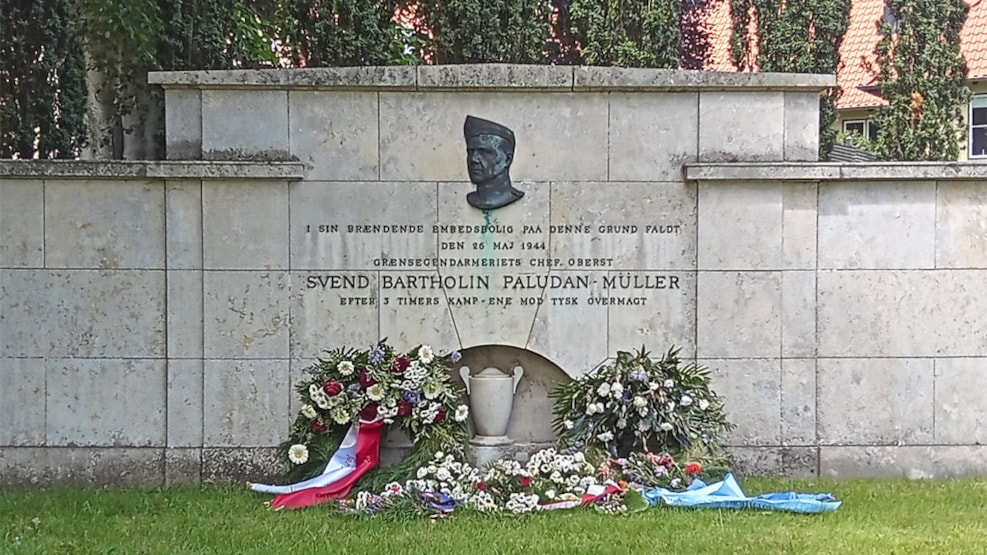 Memorial wall for Colonel S.B. Paludan-Müller
The head of the Border Gendarmerie - fallen in battle against the Gestapo, 26 May 1944
On the 2nd anniversary of Colonel Svend Bartholin Paludan Müller´'s death, the memorial wall in Fakse marble and with a portrait relief by sculptor Johan Galster, was inaugurated with the participation of the then Crown Prince Frederik and Crown Princess Ingrid.
The colonel not only had a military career behind him, he was also very nationally conscious and made no secret of the fact that he did not want to cooperate with the occupying forces. In fact, he felt both a personal and a national humiliation when Denmark was occupied on 9 May 1940.
When people from the Gestapo showed up one early morning to arrest the colonel, things did not go smoothly either. The Colonel barricaded himself in the attic of the service residence and defended himself with shots from his service pistol. Although the Gestapo had submachine guns, they could not immediately gain the upper hand, so after the maid and the colonel's wife and daughter were freely let out of the house, the shootings resumed and the house was eventually set on fire. At mid day, the firefighters found the body of the colonel. He was buried in his childhood town on Zealand.
On the other side of Slotsbakken, a memorial plaque has been placed on the wall for all 43 border gendarmes who lost their lives in the years 1940-45. The plaque was originally mounted in the Gendarmerie's building (the current rectory). In 1972, it was moved to the City Hall foyer and subsequently moved to its current location in 2009.