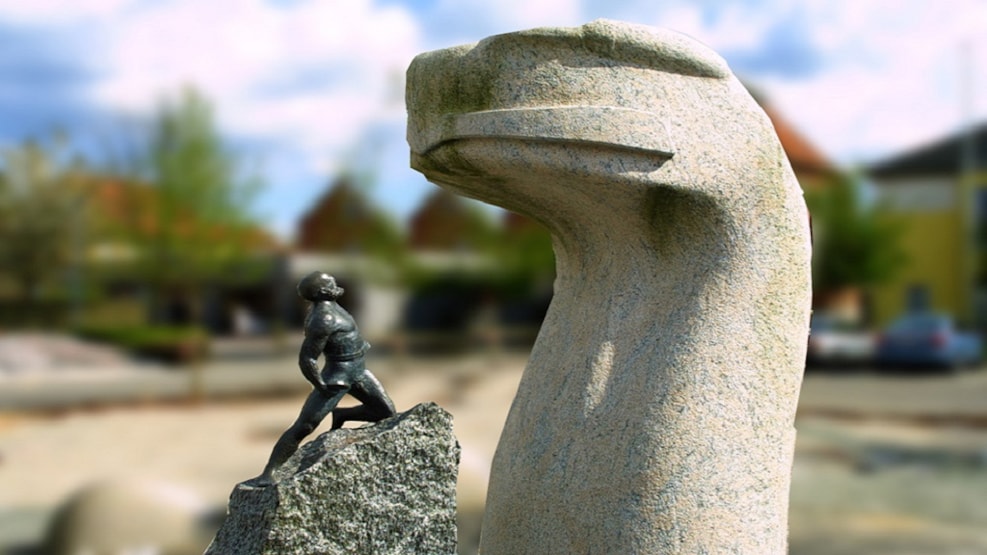 Midgårdsormen, the Midgard Serpent, in Otterup
The Midgard Serpent meanders gracefully through the middle of Otterup - you'll find the big snake in battle against Thor in the town square.
The sculpture of "Midgårdsormen" - the Midgard Serpent - on Torvet in Otterup is made by the Sculptor Jørgen Meier-Larsen, Bårdesø, with help from the stone-cutter Hans Kelbøl.
The sculpture's 9 humps symbolize the 9 small parishes that formed the former Otterup municipality.
In the middle, you can see the god Thor fighting the serpent with all his might.
• The idea to make a sculpture of the Midgard Serpent came up at the 25th jubilee of Otterup municipality in 1991
• The work began in 1997 
• The sculpture was revealed on the 21st of October 2000
• The sculpture is made of red granite
• The figure of the God Thor is made of bronze
• The stones for the humps had an average weight of 5 tons
• The head has a height of 2,4 m