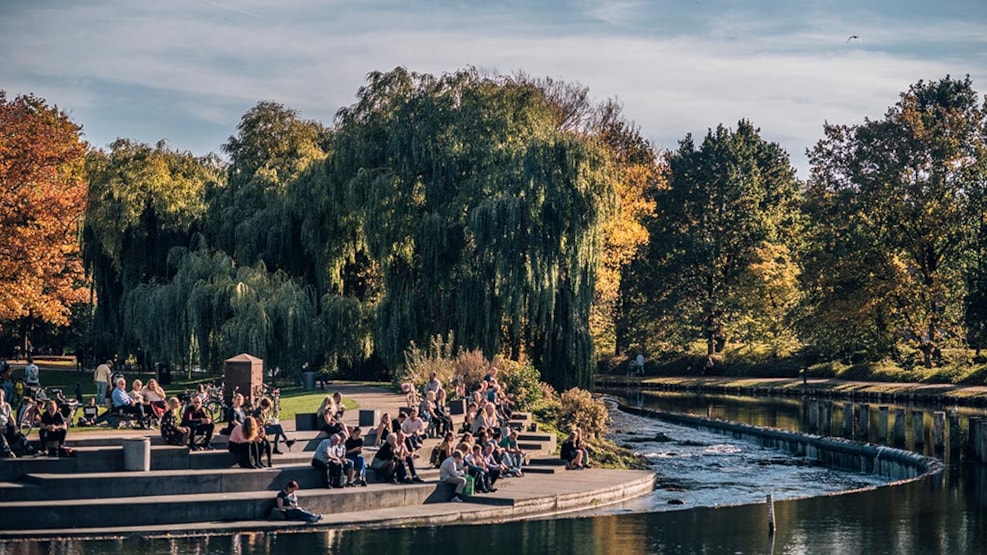 Munke Mose Park
In 1881, Odense Municipality bought the area from Munke Mølle's factories because they wanted to keep it free of buildings. It was a low-lying bog and meadow area, which was partly used for grazing and haymaking. It was often flooded by the creek in the winter and used for skating.
In 1912, seed wholesaler Chr. Dæhnfeldt offered to pay 2/3 of the construction costs for a park and contacted the landscape architect Edv. Glæsl and asked him to draw up plans and estimates.
Today, Munke Mose is mainly used for spontaneous outdoor life, except for regular traditions such as May Day events and the last day of school.
The playground in Munke Mose for the smaller children is a local favourite. Here, some small natural elements such as birds, fish, water lily leaves and butterflies are made large and can be used as elements of play. It is also in this park that you will find Odense Aafart with tour boats, pedal boats and canoes, Nelle's Coffee, and Saabyes Stryg, a fish ladder built in 2008 for the enjoyment of guests in the park and the aquatic life in the river.
When you go for a walk in this park, you will also spot some of Odense's many, beautiful sculptures, like The Wild Swans, The Little Mermaid and The Seahorse.