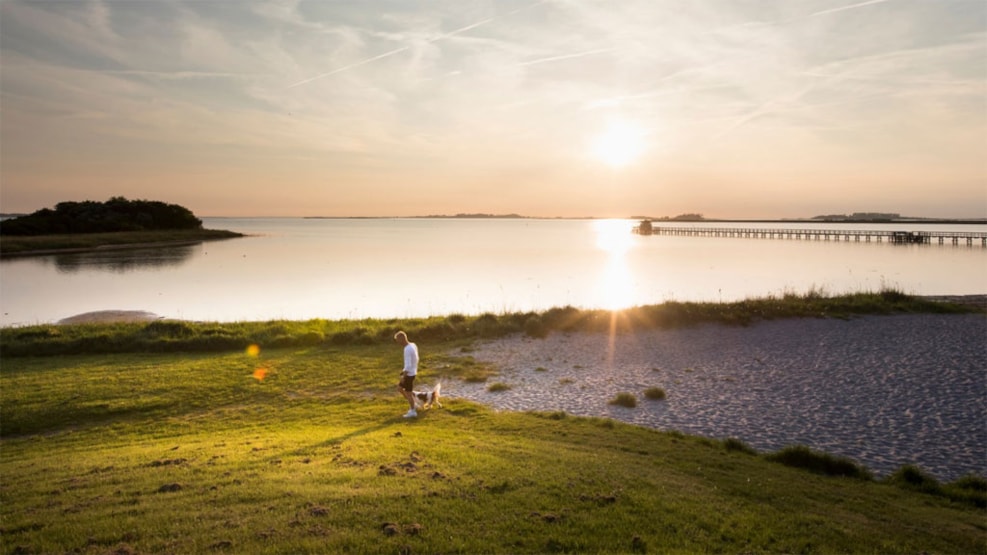 Nakskov Fjord Nature Park
Welcome to Nakskov Fjord Nature Park – Denmark's island-rich fjord offering unique nature and cultural experiences.
Nakskov Fjord is a completely unique nature area with many large and small islands and a 7.5-km long curved headland called Albuen ("the elbow"). The coastline is known for its breathtaking nature, beautiful beaches, stunning views and Denmark's second longest and iconic bathing bridge spanning 190 m at Hestehovedet Strand. Read more about Nakskov Fjord Nature Park here.
The unique animal and plant life
Nakskov Fjord Nature Park is known for its unique animal and plant life thanks to its special protection area for birds, an internationally protected wetland and a game reserve. You can see thousands of waterfowl and experience the "black sun" phenomenon, when the birds fly south for the winter – and if you arrive by water, you will have the opportunity to see fish, crabs, seals and harbour porpoises. The beaches are teeming with unique plants and flowers and all associated insect life.
Island hopping with cultural and historical experiences
The many islands in Nakskov Fjord boast a surprisingly wide range of cultural and historical sights. You can see the remains of Europe's oldest naval shipyard, Engelsborg, built by King Hans in the 16th century on Slotø or check out a 6,000-year-old burial chamber. Find "the lost island kingdom" or explore the remains of a fortification from the time of the Swedish wars in the 17th century.
Denmark's longest dyke
At 63 km, the Lolland dyke is the longest in Denmark. The dyke underwent reconstruction from 1874 to 1877 after the worst flood of the century in 1872 flooded a third of Lolland.
In addition to coastal protection, the dyke offers many hiking and biking opportunities in the surrounding landscape and right by the water.
Boat trips and guided tours
Take a boat trip on the old mail boat Postbåd Vesta, which sails the fjord all summer long and stops at several of the islands along the way.
For information about guided tours to natural trails and cultural sights, contact Nakskov Tourist Office by e-mail: nakskov@visitlf.dk or phone: +45 5492 2172.
Inspiration for more unique experiences in the Danish landscape of the South Sea Islands can be found here.