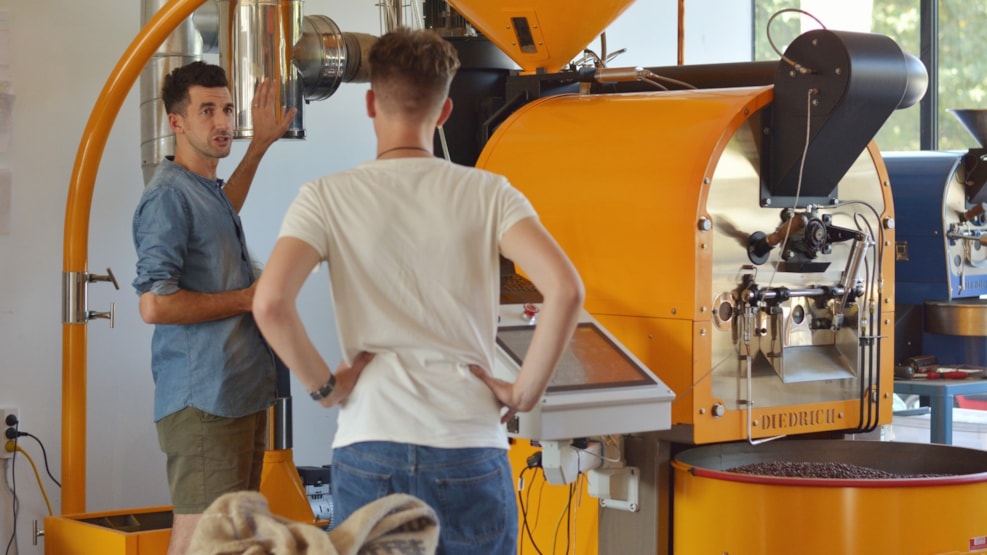 Nordic Roasting Co.
When in Copenhagen, a must-visit for all coffee lovers is Nordic Roasting Company on Uplandsgade in Amager. At this hidden gem, you can learn about a variety of different aspects of the coffee industry, while also enjoying a great cup of coffee.
Nordic Roasting Company functions as a roastery, café and coffee shop. In addition, tours of the roastery are offered, where you can gain insight into the coffee industry and roasting process, as well as participate in the roasting masters cupping process, where you can taste different beans with different roasting degrees. Barista and coffee brewing courses are also offered.
Nordic Roasting Company was founded in 2020 by Francesco Impallomeni, Jacob Frankel, and Miguel Botero. In common for the three is their enormous passion and knowledge about the coffee industry, and roasting and brewing processes. And Nordic Roasting Company is more than just a great roastery and coffee shop.
In fact, they put a great effort into creating transparency in their business and awareness among consumers about the social and environmental impacts of the coffee industry. Buying beans directly from the farmers creates a closer and more direct relationship between consumers and coffee farmers, making it easier to ensure better working conditions and wages for the farmers. Nordic Roasting Company is a brilliant place to stop by and have an excellent cup of coffee and buy some beans while getting information and advice on how to grind and brew the best cup of coffee at home.