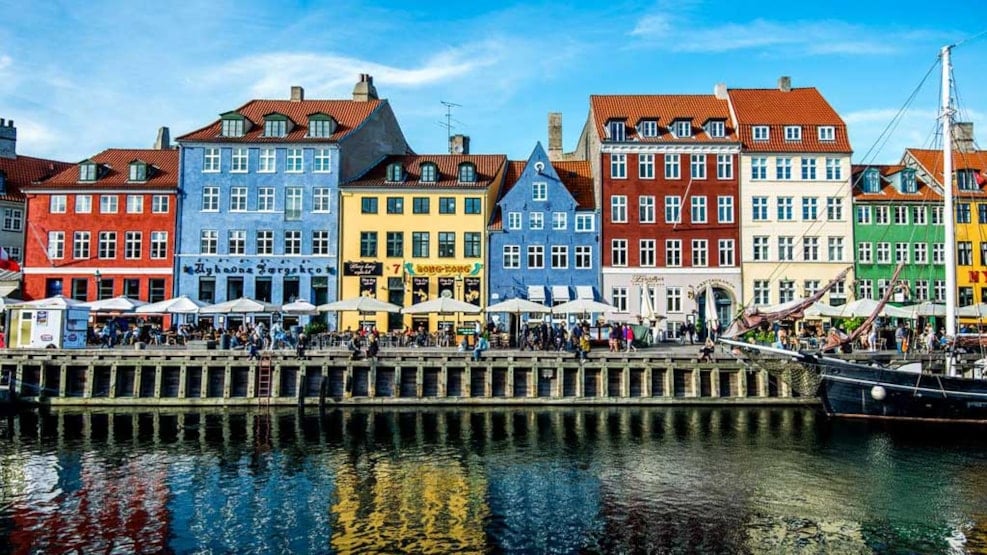 Nyhavn
Colourful, captivating Nyhavn is one of Copenhagen's most iconic sights and one of the locals' favourite places to sink a cold beer on a hot day. 
Nyhavn's buildings aren't the only colourful thing about the area – its history is colourful too. Originally it was a commercial port where ships from all over the world would dock, and it was packed with sailors visiting its pubs, alehouses and ladies of pleasure.
Today the beautiful old houses have been renovated and restaurants dominate the old port. As you walk beside the canal, you're greeted by the sounds of jazz and the sights of pavemnt cafes and people enjoying the relaxed atmosphere and great food. You're never far from the area's maritime history - boats line the canal and canal tours can take you on round trips of the city's other waterways from here too.

Hans Christian Andersen's Nyhavn

The famous Danish fairytale writer Hans Christian Andersen, used to live in no. 20. This is where he wrote the fairy-tales 'The Tinderbox', 'Little Claus and Big Claus', and 'The Princess and the Pea'. He also lived for twenty years in no. 67 and for two years in no. 18 – basically, wherever you walk down here, you'll be walking in his footsteps.
You can read more about Hans Christian Andersen's Copenhagen here. 

Christmas by the canal

During Christmas, the air in Nyhavn is scented with gløgg as the annual Christmas market fills the cobbled street with decorated stalls and twinkling lights. It's the perfect setting for your winter holiday in Copenhagen. The cafés and restaurants offer Danish Christmas delicacies, including æbeskiver and roast pork. It's a classic Christmas experience. 
Do you want to know more about Christmas in Copenhagen? Check out our guide. 
Say hello to the neighbours!
Why not combine a visit to Nyhavn with a show at the Royal Danish Playhouse or some delicious street food at Bridge Street Kitchen? They are both just a short stroll away.