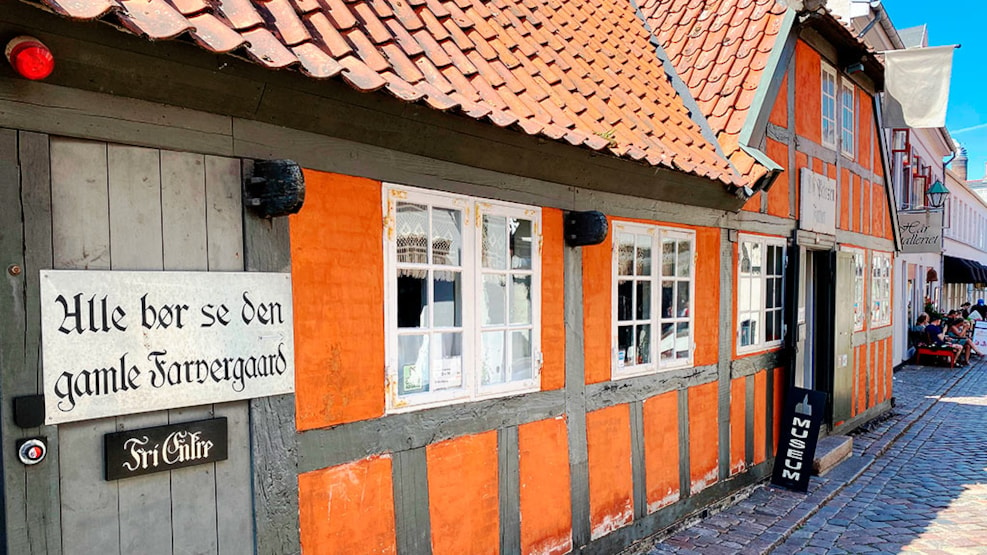 Old Dyers Yard Museum Farvergården
At Museet Farvergården in Ebeltoft, you get to learn about the dyeing of yarn and clothing as it was done in the past. Farvergården is a large courtyard area where you can even see the original chip stones. The area stretches from Adelgade to Strandvejen in the heart of town.
Farvergården is the only remaining market-town dye works in all of Northern Europe and certainly one of the most unique and well-kept courtyard environments you will see in Ebeltoft's busy high street.
The history behind the museum
Farvergården was built in 1700-1850 and used to be an active craft firm where yarn and clothing for the people of the town and surrounding area were dyed. The dye works was active between 1772-1788 and again between 1824-1920s.
The last dyer, Johan Petersen, stopped dyeing around 1925. He stayed in Farvergården and displayed the place as a museum himself up until his death in 1959.
At Farvergården, you can learn about the old craft of dyeing and the life that was lived there back in the day. Watch fascinating footage of Johan Petersen working at the dye works and learn about the dyestuffs that were used back then for dyeing clothing and yarn.
Admission is free.

See what others are sharing on Instagram