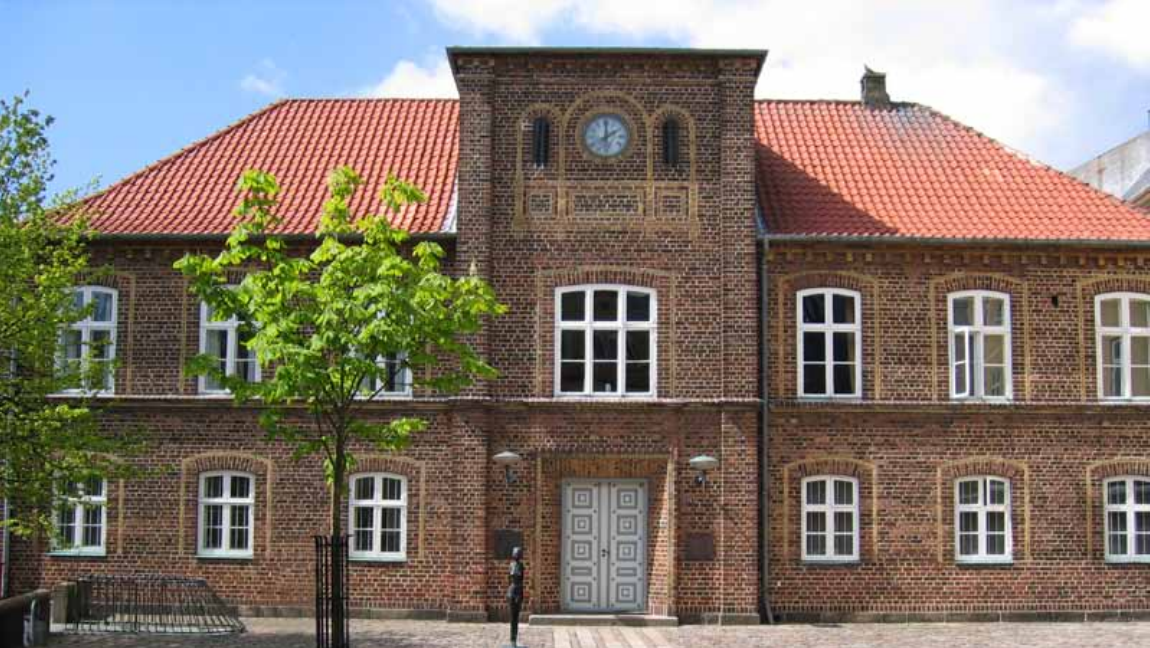 The Old Town Hall
The Old Town Hall in Holstebro, courthouse and jail from 1846, is culturally interesting and listed in 1960. Woman on Chariot by Alberto Giacometti usually stands in front of the Old Town Hall. She will return when the new elevator is installed.
In the summer in weeks 27 - 32 there is tourist information at City Hall. It is also from here that the free guided city tours on Wednesdays in July and August start.
The Old Town Hall was built in 1846 after drawing of architect Nebelong. The stones from Nørre Vosborg Brickwork were sailed on horse-drawn barges up Storå. At the festive opening of the town hall a cannon was fired, but the unfortunate cannon exploded and the person responsible for the firing was killed.
The building served as a property and a detention house. The building was consecrated in 1960 and is together with the Toll House - Bomhuset - and Nyboes Gaard the only protected buildings in Holstebro town.
The decoration in the staircase was performed in 1957 by artist Albert Emiel - locally known as Albert Emil Christensen. The  Fresco paintings "Market Days in Holstebro" show scenes from life in Holstebro, where industry replaced agriculture as the main business.
On each side of the entrance door you will see the two memorial plates received by Holstebro in 1966 and 1980 when the city was designated City of the Year. In addition, a memorial plate from 2006, when Holstebro was voted Denmark's Best Trade City, and a memorial plate from the Danish Cultural Heritage Agency.
At the municipal assembly in 1970, the city council expanded from 15 to 21 members, and the number of seats in the City Hall was expanded. The city hall stands as when it was used until 1986, when the new town hall was taken into use.
During summer in week 27 - 32 there are tourist information at the Old City Hall. It is also from here that the free guided tours on Wednesday at 1 pm in July and August start.