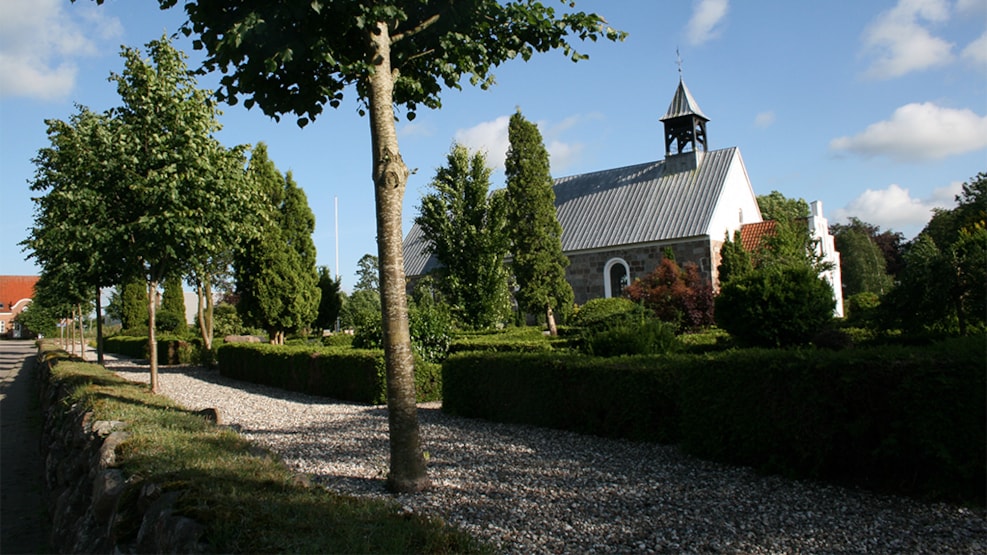 Øster Lindet Church
Øster Lindet Church is located at the southern end of the village of Øster Lindet in the northern part of Southern Jutland.
The church consists of a Romanesque chancel and nave from the mid-1100s as well as a porch. At the west end of the nave there is an open ridge tower with a bell from the 1730s. The porch on the west side of the nave was built in 1858. The church's bricked-up doors are today marked as recesses in the walls. To the south, the recess features a Romanesque tombstone of granite, presumably adorned with what was once a cross. This stone was found in 1952 in the porch. The church has undergone extensive restoration after a fire in 1980. The lead roof and wooden ceiling have been restored to their original state before the fire.
The interior walls are of roughly hewn fieldstone. The altarpiece is a Gothic triptych that has been subjected to subsequent modifications. The ornamentation and paintings, which are from 1729, were restored in 1855 and depicts the Sacrament. The Romanesque granite baptismal font features sculpted human heads, one of which has a "captain's beard". The crucifix in the chancel arch is coarse in its crafting but has an expressive countenance. The organ loft is designed in a rural, somewhat simple Renaissance style and is from 1631.
The cemetery is surrounded by embankments of granite fieldstones. In the graveyard there is a memorial made by sculptor Niels Hansen Jacobsen to the fallen WWI soldiers from the parish.
According to legend, a giant threw stones to disrupt the construction of the church, but the stones were repelled and fell on the field.
Distance
Cycling route The Ancient Road Hærvejen 3,8 km