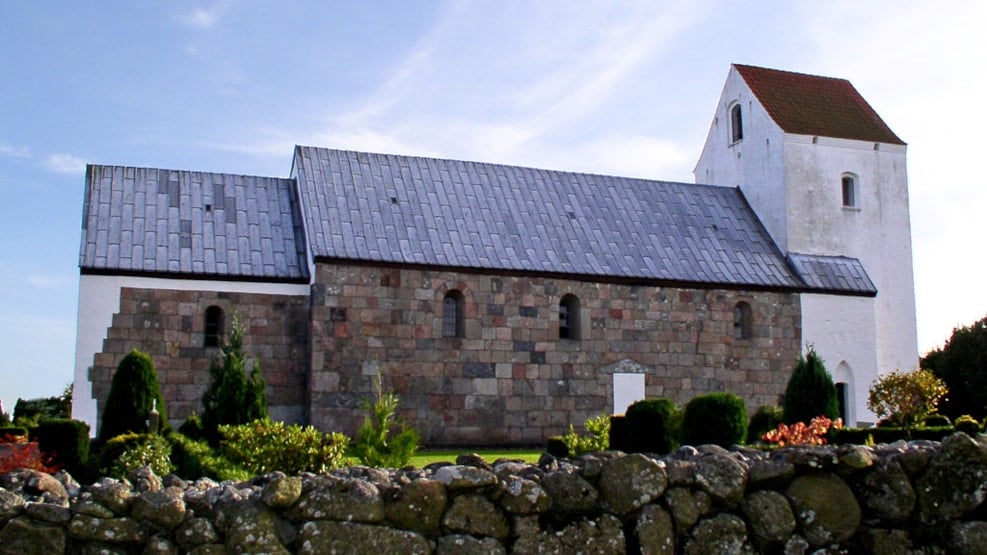 Øster Nykirke
Øster Nykirke - Øster New Church - or Saint  Peder's Church is situated on the top of the ridge and is Denmark's highest-lying church at an altitude of 130 ms above sea level. The church was built in 1150-1200 as a pilgrimage church for the Saint Peder's holy well, where the water was thought to have healing powers.  
The style of the church is Roman. The tower was built in late Gothic times and was originally 12 ms taller than today.  A tympanum (gable section) is the church's most distinguished feature. The altarpiece and culpit are from 1632 and are richly decorated with scenes and characters from the Bible. The story goes that they were carved by a blind wood carver from the village of Vonge. The bell is from 1438.  

The well runs east of the church and is encircled by a copy of a mediaeval well basin.

Located at the crossroads just south of the church is an old stone monument engraved with the year 1856 and the place names: Colding and Vester Mølle. The inscription relates the importance of the Ancient Road up until the mid-1800s.