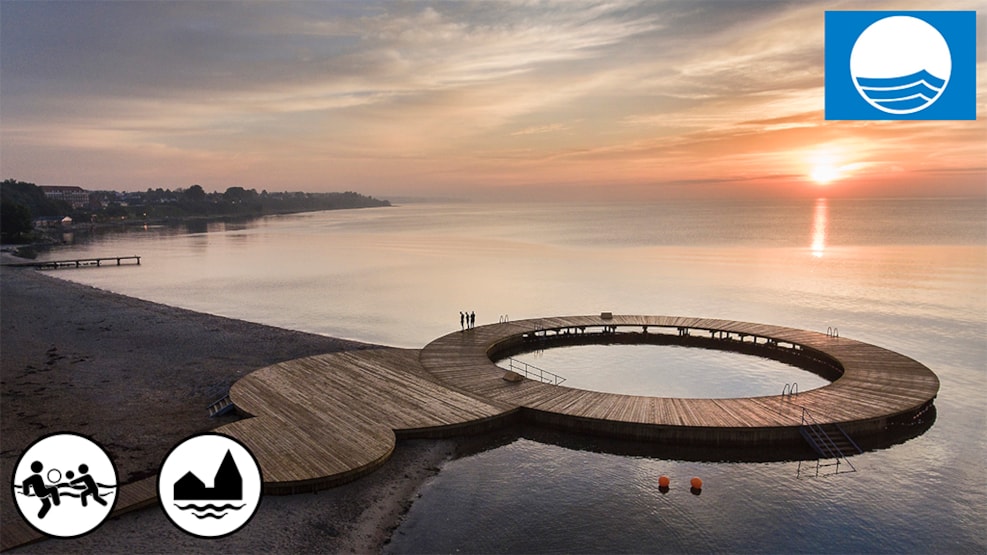 Østerstrand
Østerstrand is Fredericia's best beach. Pack your swimsuit for a day of fun.
Fredericia's best beach
Østerstand is Fredericia's largest beach and has been nominated Denmark's Best Beach several times.
The beach is located next to Little Belt and is a recreational oasis. It has everything you need for the perfect day out. The beach is laid out as a wide sandy beach with excellent bathing opportunities from the water's edge or from the large circular bridge in the middle of the shore.
Facilities on the Østerstrand beach
Østerstrand is a family-friendly beach with good toilet and changing facilities. Toilets and showers are always available. The toilet block also has a family changing room with bathing facilities.
The beach area is landscaped with paths and numerous seating areas along the beach. There are several seating and lounging areas and long tables available for use by beach guests. Several of the long tables have a pebble-dashed surface, making them safe for disposable barbecues.
The beach also has several designated fire pit areas for use in the evenings.
Disabled-friendly beach in Fredericia
Østerstrand is a disabled-friendly beach. It is paved with disability-friendly paving, and along the beach there are table and bench sets with special wheelchair space at the table. The toilet block has a family changing room with bathing facilities and a wheelchair-accessible toilet.
Østerstrand offers several options for bathers with disabilities. The Mermaid Flutes on the beach is a facility for visually impaired bathers and others who want extra safe bathing.
Read more about the facility here!
It is also possible to borrow a WaterWheel wheelchair at Østerstrand. The key to the wheelchair can be collected from the beach café. More information about the bathing wheelchair can be found here!
Find more inspiration for disability-friendly holidays in Fredericia here!
Blue Flag and lifeguard patrol
Østerstrand is a Blue Flag beach. During the summer holidays, the Danish foundation Trygfonden's lifeguard tower and trained lifeguards are present on the beach. You can ask them for advice and information about bathing conditions.
Remember that your safety is always your responsibility – even when there are lifeguards on the beach! Read Trygfonden's guide to safe bathing here!
Beach activities
Østerstrand is not only a beach but an activity area where you can exercise. See more information about the beach area's many activities here!
Østerstrand beach café
After a ride on the blue waves, you can settle down at the Urbania Beach Bar for some tasty food and drinks.
Close to town centre and history
Østerstrand is just a short walk from Fredericia's cosy pedestrian streets. Here you'll find great shopping, restaurants and activities for the whole family. Fredericia Ramparts, one of Northern Europe's oldest and most well-preserved ramparts, is also located right by Østerstrand. You can therefore easily combine a trip to the beach with a visit to a restaurant, a spot of shopping and a walk on the Ramparts of Fredericia.
Parking
There are several parking options near Østerstand. There is a small area on the beach where you can park for a fee. Disabled parking is also available here. Free parking is available along Østervoldgade, a minute's walk from the beach area.
Parking is not permitted on the grassy areas of the Fredericia Ramparts.
See alternative parking options in Fredericia here!
See what others are sharing on Instagram