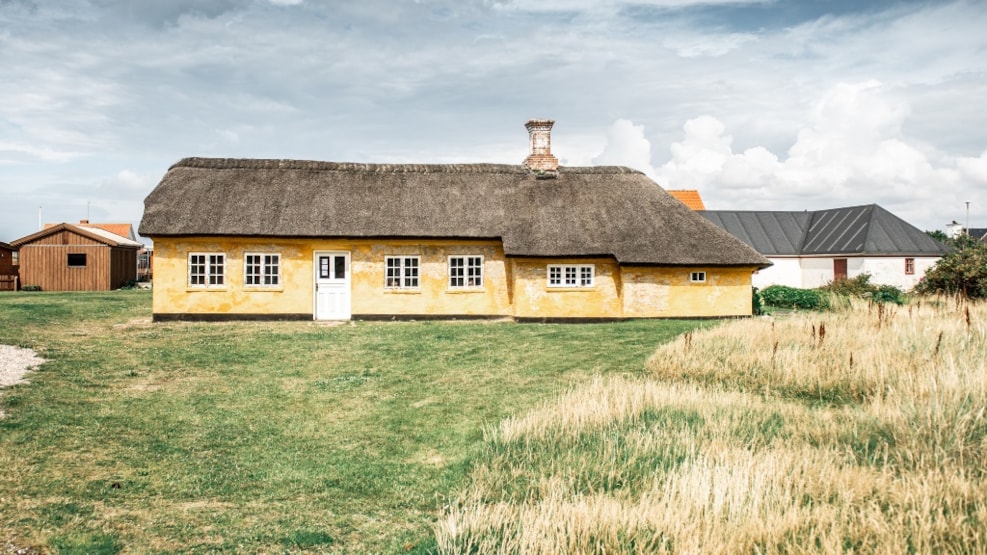 The panoramic cycle route "Experience the forces of nature" - 43 km
Panoramarute 410 - Agger, Hurup, Bedsted Thy.
The cycling route "Experience the forces of nature" can be a bit of a challenge with high ice age slopes, sand blasting and westerly winds.
The tour takes you through historic villages and green farmland between Agger, Vestervig and Hurup in Thy.
You can advantageously start the trip at De Sorte Huse in Agger, which among other things tells about coastal protection and the "North Sea brushes", which helped to build the hips along the west coast.
The trip continues along the beautiful Flat Lake and on to Lodbjerg Lighthouse, from where there is a unique view of the rugged landscape with dunes and plantation. The Limfjord lies to the south, and to the north lies unspoiled nature. Do not miss one of Denmark's smallest village churches, Lodbjerg Church, where there is also a fantastic view.
At Hurup Thy you can visit Aagaard Tekstil, which is located in a 220 year old farm. The lookout tower in Ashøj Plantage is Thys highest point. The recreational area now also offers a troll, namely Ask from Ashøj.
The trip continues to Vestervig Church - the Nordic region's largest village church. The church and the area offer many cultural-historical memories, among other things, Liden Kirsten is buried in the cemetery.
Close to Vestervig Church is Æ Beeshus - a former cowshed, which is now used for an exhibition about Vestervig's history. Here you can learn more about the monastic period, the town mound, nature, the culture in the area. Also make a detour past the historic Klostermølle.
Vestervig city offers a captivating experience in the small Prison and Legal History Museum in the city.
On the way back to Agger you come through Krik Vig, which is a little natural gem for surfers and anglers.
Read more about The panoramic cycle route "Experience the forces of nature" and plan your visit to the area.