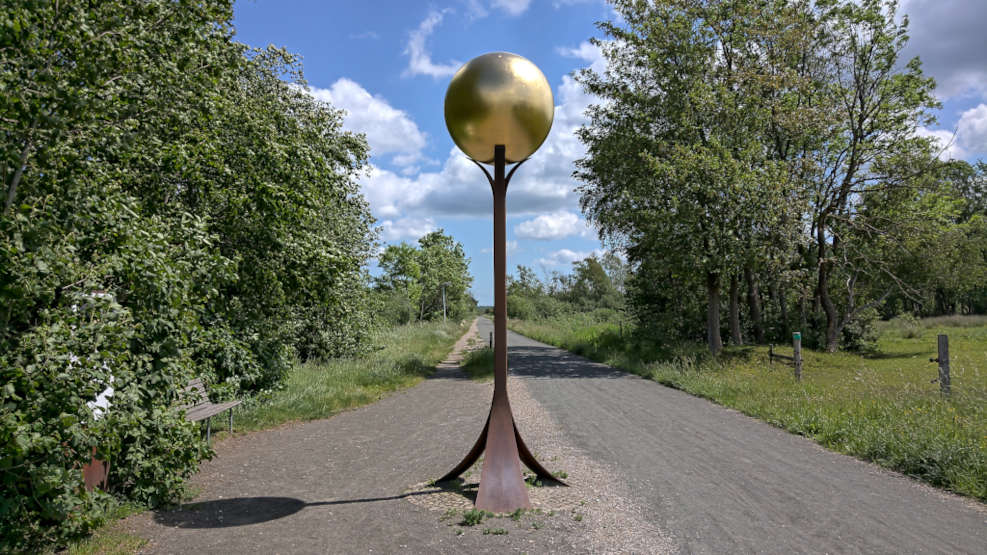 The Planet Path (Planetstien)
Hop on the bike or enjoy a walk on The Planet Path in the scenic area along Horsens Fjord and experience the solar system unfold on the 3 kilometres from Høegh Guldbergs Gade to The Fishing House near Boller Castle.
A walk through the solar system
Get an exciting insight into the solar system's huge distances illustrated beautifully on the road to Boller Forest in scale 1:1498 million. The Planet Path starts at Høegh Guldbergs Gade, where the sun is represented as a large gold-plated iron ball on a 2.8-metre-high stand. From there you can take the trip along the fjord with all 8 planets from Mercury to Neptune – illustrated on large natural stones with information about each planet. You can also read the information boards set up, where the path starts and ends.
Great nature experiences near the centre
The route starts near the centre of Horsens and follows the south side of Horsens Fjord Boller Nederskov Forest. At the end of the path awaits beautiful scenery and cultural history.
At the end of the route you can go left and come out onto the Boller Pier, where you have a magnificent view over Horsens Fjord and the city of Horsens. You can also choose to continue through the old manor forest, Boller Nederskov, to the beautiful Boller Castle. Here you will find the beautiful Castle Park with a flower garden, an Asian inspired garden with turtles and a 1000 years old oak tree.
Near Boller Nederskov Forest there are several other impressive forests, all well suited for hiking routes. You can continue the trip to the old meltwater valley, Klokkedal, which is only a few hundred metres from Boller Nederskov.
Read more about The Castle Park.



Try the hiking/bicycle route around Horsens Fjord
The Planet Path is a part of The Fjordmino. On The Fjordmino you cross the fjord via a small bicycle ferry and the islands of the fjord, Hjarnø and Alrø. The route is 59 kilometres long and there is also a 52 kilomtre bicycle route. 
Park at Bakkelunden
You can park your car at the nearby park Bakkelunden, Bjerrevej 20, 8700 Horsens. 
From here, just follow the signs to Horsens Fjord. The walking distance to the start of the route is approx. 3 minutes.

Be aware, that you have to cross a very busy road to get to the path, so it is advised that visitors with children walk together.