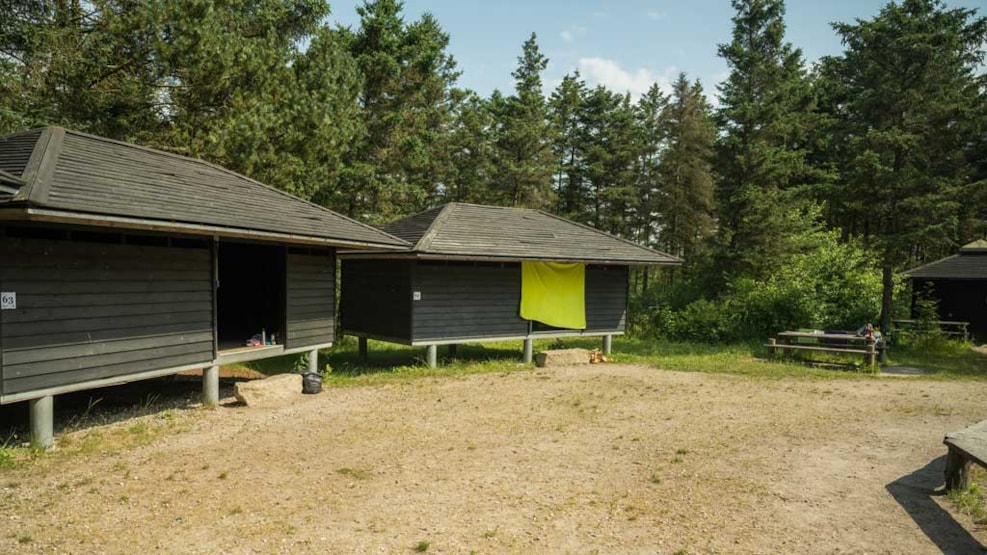 Præstbjerg Naturcenter
Stay the night in a tent or a shelter.
At the camp- and tent site there are 4 big shelters with room for 10 – 12 persons. 3 of the shelters can be booked in advance. The neighbouring tent site can be used for small tents. You may stay for maximum 2 days. Everyone on the site is sharing the facilities. Rules of the site is hanged up and must be followed by everyone. There is a bonfire, woodshed, tables and benches as well as a handicap-toilet. It is possible to borrow bonfire equipment, movable stair and a crane for handicap use in connection with shelter booking. It is free to use the site.   
The shelters at Præstbjerg Naturcenter can be booked here
Should you have any problems or questions regarding booking a shelter, please contact Herning Kommune, Natur og Grønne Områder.
teknik@herning.dk
Nature experiences for everybody
The nature surrounding Præstbjerg Naturcenter is magnificent. Here you will see backed heath areas, oak scrub, beautiful vantage points, small forests and lakes. Close to the nature centre there is a playground, roofed packed lunch house, bonfires with grill, table- and bench sets as well as toilets.
Around the lake and out in nature
The walk around Præstbjerg Sø is 1,3 km. and goes up and down through the beautifull heath landscape. On the way there are vantage points and benches. The walk is handicap-friendly. There are also 3 other routes from 1,6 km. to 2 km. If you want to ride, there is a riding path on 5,6 km. in Præstbjerg plantation and a little horse fold at the shelter site at Kleinstrupvej. If you bring your dog it has to be in a leash at all times.
Fishing
Regular fishing in Præstbjerg Sø (lake) is allowed for handicapped people as well as institutions or schools together with a grown up or nature guides. Release fish you do not want to eat and remember to follow the close season as well as the rules for minimum size.  
The centre building is a fine meeting place
Inside the building there is a small exhibition where you can learn about the nature and culture at Præstbjerg. There is a handicap-toilet and a changing table. The exhibition is open from April to September from 8am to 9pm and from October to March from 8am to 7pm. There is free access to the exhibition.
Rent the room for meetings and teaching
The teaching room in the centre building can be used of day care centres, schools and other teaching institutions, handicapped groups, tourist groups and associations. The room cannot be rented for private purposes. There is room and tableware for 30 persons. There is refrigerator and a tea kitchen. In the room there is stuffed animals and nature guides equipment, which can be used. The renter is responsible for cleaning of the room.