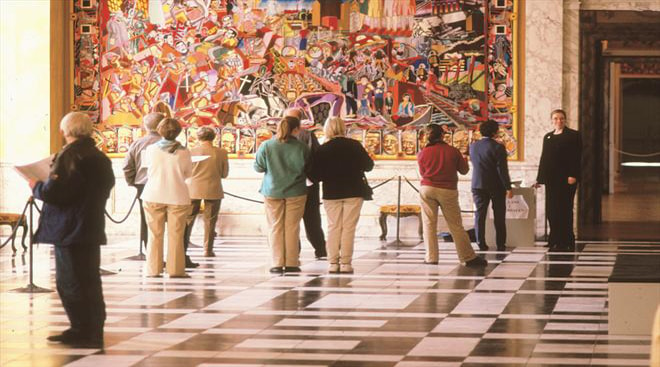 The Queen's Tapestries at Christiansborg Palace
The Queen's Tapestries at Christiansborg Palace in Copenhagen are a gift from the Danish business industry to Her Majesty Queen Margrethe II on her 50th birthday in 1990.
The 11 tapestries are from Le Mobilier National et les Manufactures Nationales de Gobelins et de Beauvais in Paris - commonly referred to as les Gobelins.
The project was funded by a range of Danish companies and foundations as well as the French state. Bjørn Nørgaard painted the full-size sketches - known as cartoons - upon which the tapestries were woven.
A view of Danish history
The gobelin series recounts the history of Denmark and the world, including the Viking Age, the Middle Ages, the Absolute Monarchy, the Reformation, World War II, the Present and even the Future.
The Danish royal family and references to the artists earlier works are skilfully woven into the greater context.
It took quite some time to make the tapestries, to be exact 10 years, so on the occasion of the Queen's 60th birthday, the tapestries were finally hung in their rightful home: the Great Hall in Christiansborg Palace, which has been specially restored for the purpose.