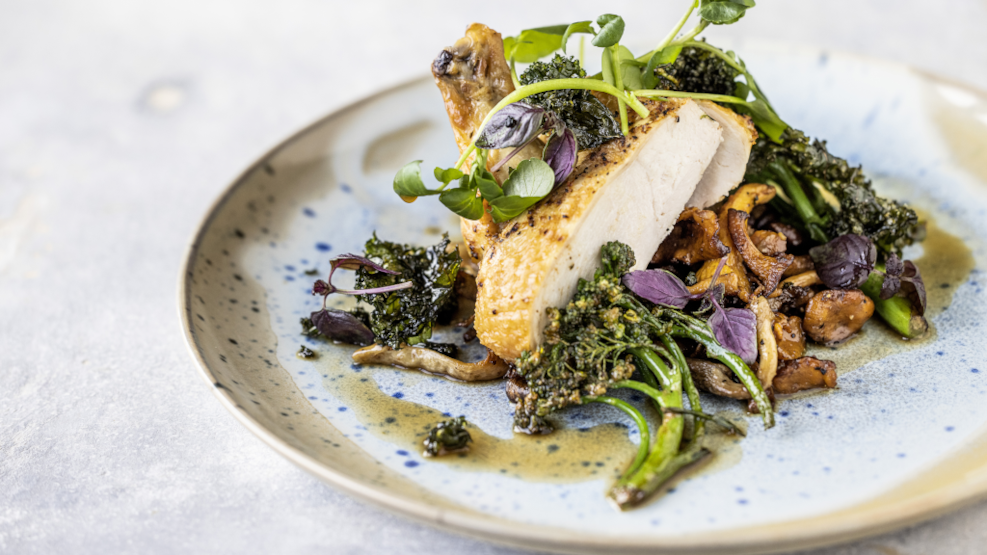 Green Experience
The Reastaurant at Scandic Opus Horsens
This inviting restaurant with an impressive view over Nørrestrand is found at the top floor of Horsens' biggest hotel. Here, they pamper you taste buds for lunch and dinner. You are welcome to come in for a great taste experience. The restaurant is worth a visit for everyone – not just guests with a room reservation.
Great food in a lovely setting
Whenever you are feeling hungry, you should consider taking the elevator of to 4th floor of the hotel Scandic Opus Horsens where you will find its exciting restaurant. Here, you can look forward to a varied selection of well-cooked dishes to suit all tastes – and the view to the open kitchen and the wildlife reserve Nørrestrand is quite impressive.
Any visit to one of Scandic's restaurant should always be an experience with well-set tables, good competent service, and not least enjoyable food.
A la carte temptations
The dinner menu consists of a delicate and varied a la carte dishes. The menu has something to suit all tastes, regardless of whether you are in mood for poultry, fish, or anything in between. You can easily make up a three-course-dinner focusing on the Danish and Nordic cuisine. The dishes are simple, natural, and made from quality ingredients. Steaks and minced-beef steaks are from Finnish Freygaard who have won the World Steak Challenge three years in a row.
Scandic also has a comprehensive wine menu, and the restaurant's skilled waiters can help you choose the wine that perfectly accompanies your choice of food.
You can see the current menu at Scandic Opus Horsens' website.
Enjoy delicious lunch at Opus
Scandic has the same good menu for lunch as for dinner. We recommend combining a nature experience in Nørrestrand or a hike in the four meadows with a good meal at the restaurant. The hotel is found close to Europe's biggest prison museum, FÆNGSLET. So why not kill two birds with one stone and visit the restaurant while you are there
Booking and opening hours
The restaurant at Scandic Opus Horsens is open Monday to Sunday every week. You can see the current opening hours at Scandic Opus Horsens' website.
Call +45 76 25 72 00 for table reservation.
Spice your food experience with accommodation
Scandic Opus Horsens offers spacy, comfortable rooms and good facilities. Read more about accommodation at Opus on this page and make the meal a part of a stay.