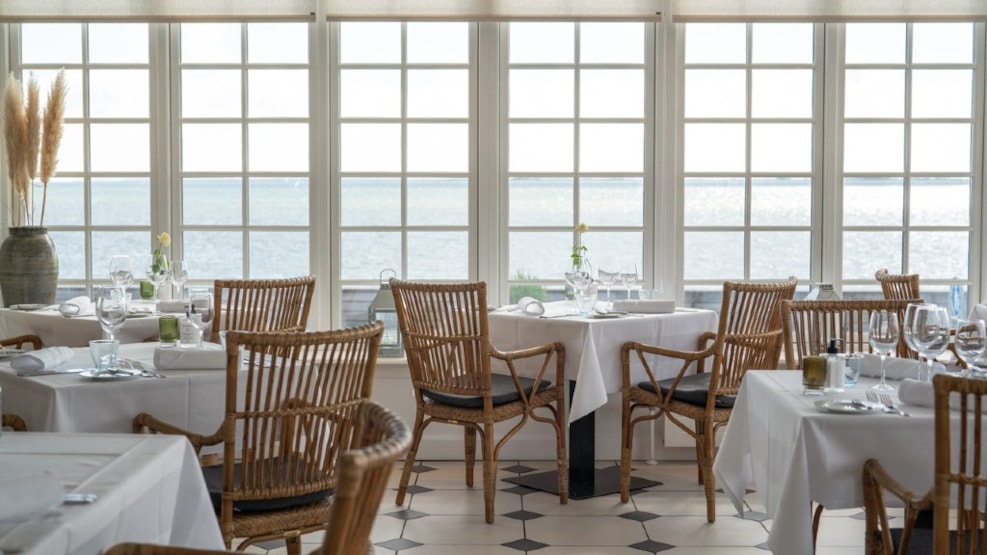 Restaurant Strandpavillonen in Esbjerg
In front row to the Wadden sea - The first thing you meet when you step inside of Strandpavillonen is the impressing light of the room. Even on cloudy days, the light pours in through the bared panoramic windows, where the waves of the Wadden sea douse just outside.There is a fantastic view of Ho Bugt, where Fanø, Langli and Skallingen loom in the horizon.
Strandpavillonen is Hjerting Badehotels gastronomical pride. This is the place, where ingredients from local manufacturers and the touch of the Wadden sea leave a mark on flavor combination, expression and finish. The menus are put together by talented cooks, who never compromise on quality, when they tell stories through the plates.
As an example we can mention that Strandpavillonen's homemade bread is based on organic and biodynamic flour from the local Forum, where they grow and mill flour of ancient cereal types.
We offer prepared menus and á la carte and there is always have the option of picking the perfect wine from our large selection of assorted wines.