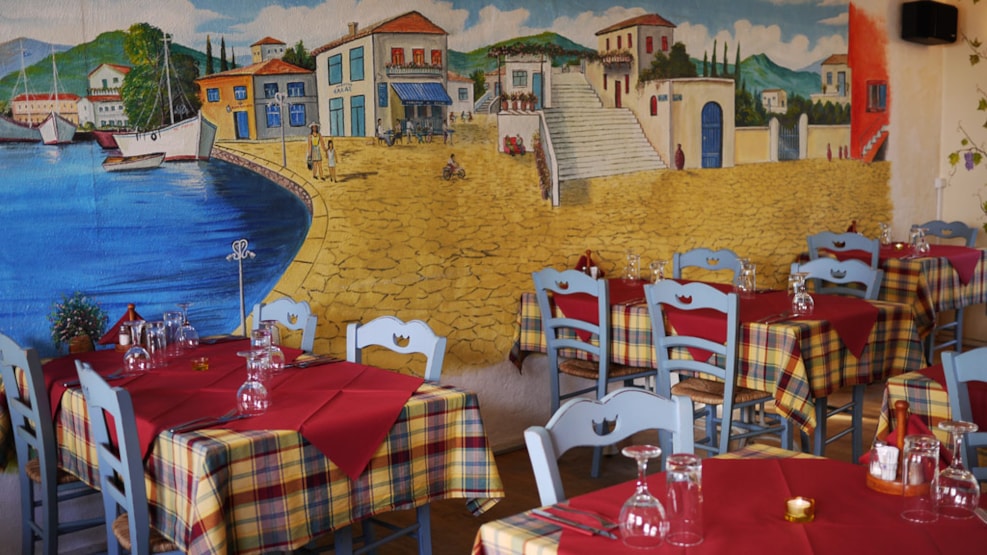 Restaurant Taverna Hellas
If you're looking for an authentic Greek taverna with a warm and relaxing atmosphere then Restaurant Taverna Hellas is the place for you. There is plenty of Greek charm to be found in the heart of Vejle where Restaurant Taverna Hellas can be accessed from Nørregade and a riverside terrace by Mølleåen.
As a guest at Restaurant Taverna Hellas you will enjoy a little bite of Greece. As you enter the taverna you will be greeted by a large painting of a Greek harbour promenade rendered in warm southern hues. And you'll be welcomed by whiffs from the kitchen of traditional Greek cooking, such as the oven-prepared national dish moussaka made with potatoes, eggplant, squash, minced beef and béchamel sauce. The proprietor, Georgios Vasileiou, takes great pride in welcoming all kinds of guests, whether evening diners or passers-by seeking good company and relaxation with a coffee or a glass of ouzo. 

The restaurant offers an inspiring blend of the best of the proprietor's two former tavernas on the Greek island of Kos. A visit to his restaurant is indeed much like venturing to Greece itself, so he says. And when you have experienced his restaurant and riverside terrace with its beautiful flowers you'll definitely concur.