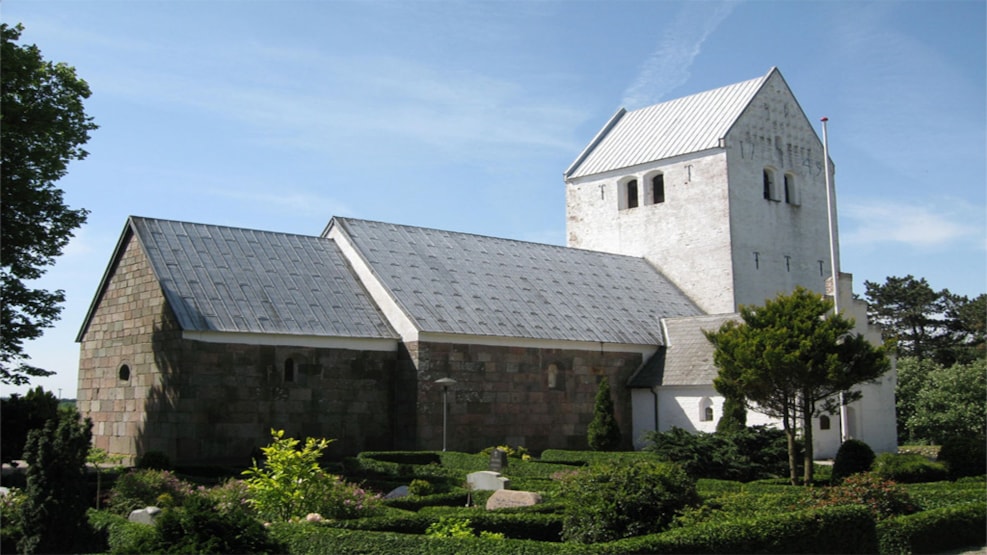 Rimsø Church
Rimsø Church in North Djursland is not only worth a visit because of the very beautiful quarry stone church and Denmark's oldest rectory just north of the church. But also because there are a 24 m large burial mound in the cemetery on which stands a very nice and special rune stone from the Viking Age.
Rimsø Kirke is also very old. The quarry stone church was built around 1150, and underneath it, there may also be traces of a former church from the Viking Age. In the 16th century, Late Gothic elements were added to the church. In the south wall of the church, you can see a very beautiful and later walled stone portal by the great stonemason Horder, who delivered many magnificent works to the area's churches.
The romanesque, high-altitude church that reportedly served as a haven in times of turmoil. A very low door leads to the stairs, which, like the old castle's spiral stairs, go from left to right.
 
The main sights of the church are partly the granite portal and partly the 400-year-old rectory. On a mound in the cemetery is the country's highest rune stone.
The origin of the Rimsø rune stone is unknown, whether or not it is related to the mound where it now stands is unclear. Most of the more than 200 rune stones preserved to this day are also located at or in churches, but they have been moved there during the Viking Age as the Christian faith gained ground.
The Rimsø rune stone is first mentioned in 1832. Until 1875, it was walled into the south side of the church near the plinth, and in 1889 it got its present location at the burial mound. Until 1814 there was also another smaller rune stone, which has now disappeared.
The runestone is a bluish granite, and the Rimsø rune stone is the only Danish rune stone with so-called "payroll", where some words must be read from behind. It is also distinguished by the fact that, unlike most other runes, the rune text starts on the narrow side of the stones. It has only been able to translate a part of the rune text, which reads:
"Thore, Brother of the One Council, raised this stone after his mother and ......... as the worst for the son"
Open at 8-16