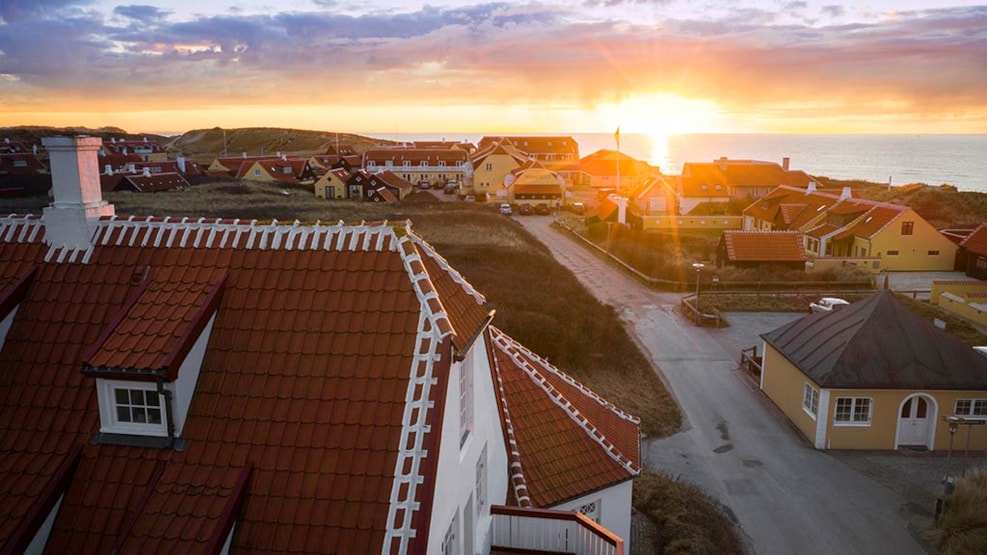 Ruths Hotel
Surrounded by dunes, sea and forest you find the iconic Ruths Hotel – right between Skagens famous yellow houses.
Experience the famous Ruths Hotel
Ruths Hotel is a unique experience all year round. As a guest, you will experience being pampered from arrival to departure. The gastronomic level is top notch in Ruth's Brasserie and the gourmet restaurant Okê. The same goes for the breakfast buffet as well as the sweet temptations served in the lounge.
The characteristic surroundings in and around Gl. Skagen offers the opportunity to walk through scenic landscapes. There is 200 meters to the beach and even shorter to the forest, where you can find good trails for running, mountain biking and horseback riding.
In Ruth's Wellness, the feeling of well-being can be further enhanced. Here you will find a therapy pool, sauna, steam bath, exercise equipment, and a varied selection of facial and body treatments are offered.
Ruths hotel has 56 rooms, which is divided on 5 buildings; The main building, Kunstnerhuset, Sømærket, Strandhuset and Ruths Strandhotel. All rooms, suites and apartments are of the highest comfort, and each has its own unique history and distinctiveness. For example, the idyllic Ruths Strandhotel from 1910. All rooms were completely renovated in 2021, but the authentic atmosphere of a classic beach hotel is intact.
More than just a Beach Hotel
At Ruths Hotel you can connect business and pleasure, as the hotel offers facilities for conferences and meetings. Bring your colleagues and head to Gammel Skagen, where you can combine pleasure and business in one.