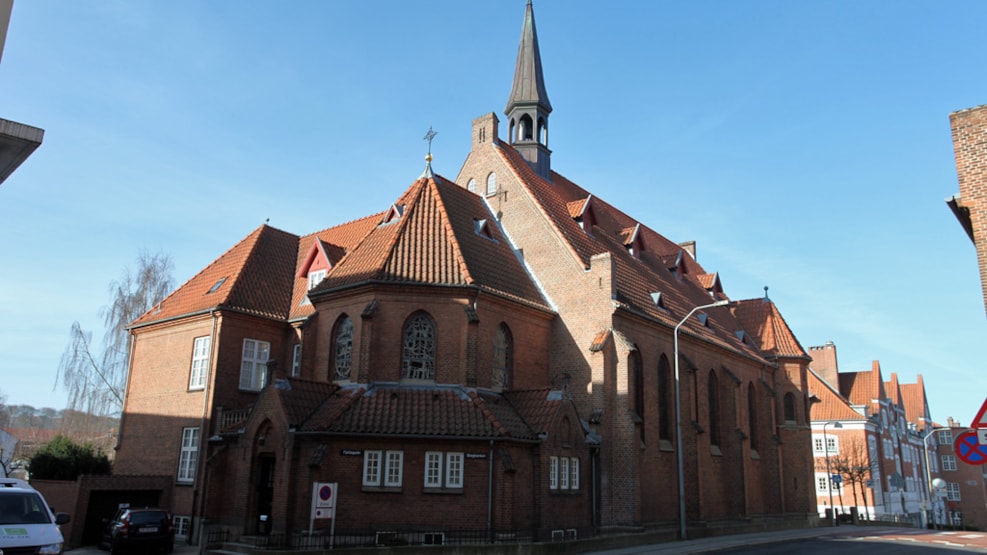 Sct. Norberts Church
Saint Norbert's Church is Vejle's Catholic Church, which is centrally located in Vejle together with Saint Norbert School. The church was constructed in 1922-1924 in the Neo-Gothic style.
Architect F. Wipler from Odense has managed to harmoniously integrate all architectural elements, including the adjacent vicarage, into the unified design. The sacramental bread is stored in the back wall of the chancel. The cabinet door is adorned with ceramic mosaic by former vicar Willem Wuyts. The little red light is switched on when the Body of Christ is present in the tabernacle.
The pews, doors, confessional and the altar are carved in Slavonic oak by Belgian sculptor Goeteyne. The alter features six reliefs, four evangelist symbols and two symbols of Christ. The baptismal font, an antique basin of marble-like limestone, rests on a square granite pillar.
The two wooden figures, of the Virgin Mary and Child, (on the left), and Jesus portrayed as the good shepherds, (to the right of the chancel), were carved in Oberammergau in Bavaria.
The Fourteen Stations of the Cross (1992) was created by painter and Jesuit father Adolf Meister, Aarhus. The pneumatic pipe organ with 11 ranks, 2 manuals and a pedal was constructed in 1939 by Marcussen & Son, Aabenraa.
The six stained-glass windows are all created by painter Nis Schmidt: Four Gothic windows in the chancel (1974), a circular window behind the organ (1987), and a pointed arched window in the former baptistery (2002). Here you also find a crucifix and a sculpture of the church's patron saint, St. Norbert. The crucifix and the figure of Christ were created by Nis Schmidt and are executed with a green-bronze patina on the occasion of the church's centennial in 2004.