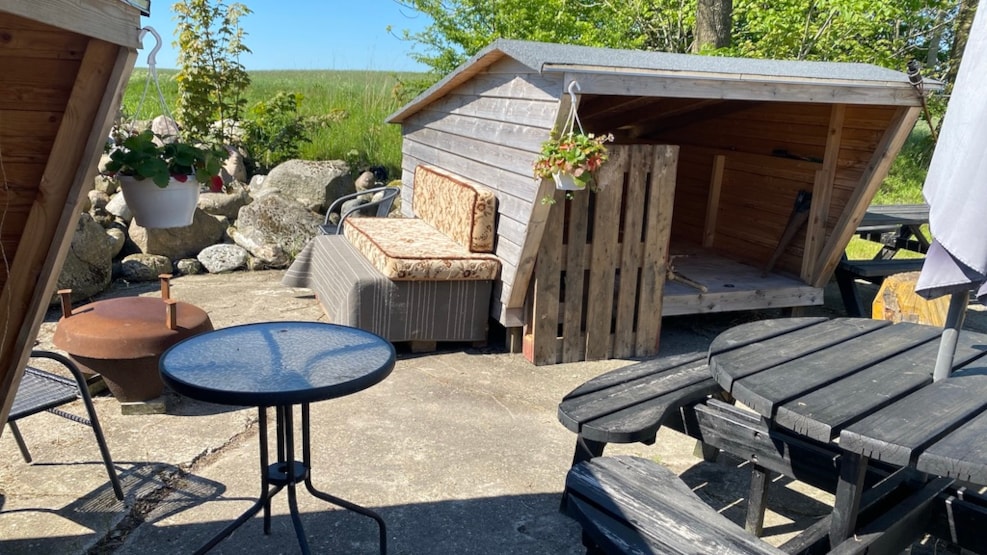 Shelters and tentsite at Bregnedalsgaard, Vebbestrup
Bregnedalsgaard: Organic farm with rabbits, chickens, sheep, heifers, cats and a dog named Freya.
Note: We are only open in the summer from week 18 - 35.
You are welcome to set up your tent or use the shelters.
There is a fire pit, several tables and benches, and a charcoal grill available. You must bring firewood or coal yourself and clean the grill afterwards. The shelter site is located to the west, so you can enjoy the evening sun and peace and quiet. You are welcome to use the kitchen, shower and toilet in the party hall. Remember to clean and wash up after yourself.
It is possible (for a fee) to use the washing machine and tumble dryer. In the activity room there are, among other things, table tennis and games that you can freely use. We will ask you to sort waste i.a. by using the containers in the garage. Our chickens would very much like to have leftover salad etc.
It costs DKK 50. per person, children under 12 are free. Use of shower and kitchen is free.
Write a message to tel. 20622232 before you come. (This number is also used to pay for the stay.)
Route description:
The farm is located on Kraghøjvej, only 300 m from the old main road between Hobro and Aalborg. Just 2 km. north of Vebbestrup to the road.