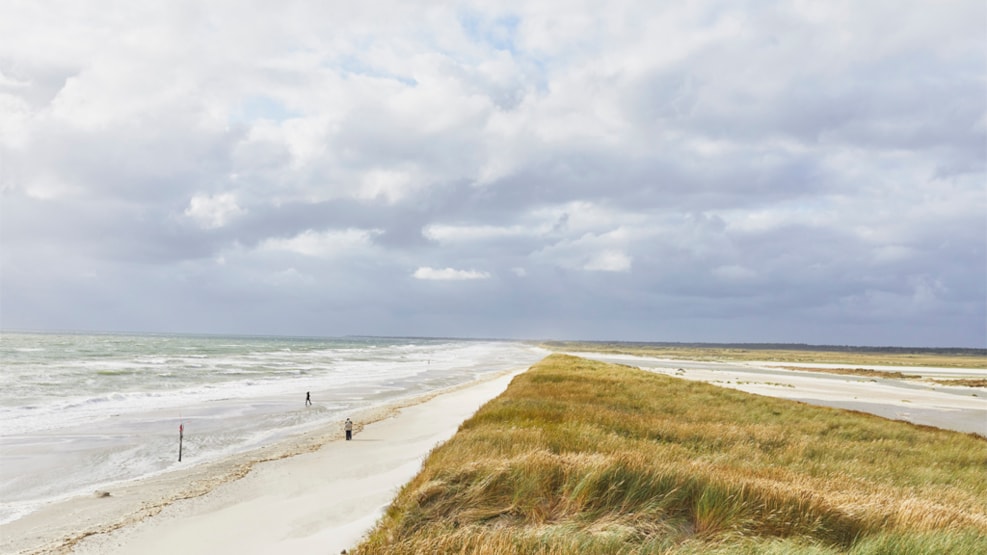 Skallingen and Langli - the most northern island in the Wadden Sea
Only few places in Denmark offer such a grand and untouched landscape as this. The peninsula Skallingen covers 2,000 hectares of unique nature and is part of the Wadden Sea National Park. To the west are the dunes, offering protection against the North Sea. To the east are large and flat meadows, stretching towards Ho Bay and the Wadden Sea.
Cattle graze on the meadows every summer. A marked trail from the information and lunch house, Vogterhuset, leads to the southern tip of Skallingen. The fishing village of Sønderside used to be located just before Skallingen on the outskirts of the plantation Ho Plantage, and was one of Jutland's biggest fishing villages.
It was completely destroyed during the storm tide in 1634. The island of Langli is 80 hectares big and consists mainly of beach meadows and pastures as well as old grey dunes. The island was permanently inhabited from 1840 National Park with the largest number of birds. In 1982, the state acquired the island and turned it into a nature reserve, so the island is open to the public from July 16th to September 15th. Please make sure to adhere to the access rules out of respect for the breeding birds on the island. Guided tours by foot or car are offered during the open period. Make sure to check the tide calendar when visiting the island.