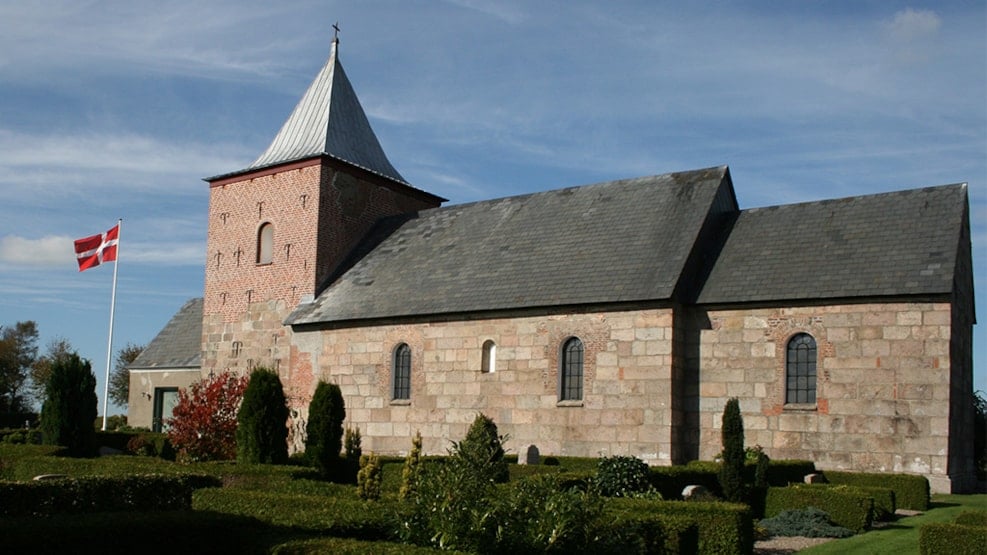 Skrave Church
Skrave Church is situated between the villages of Københoved and Langetved, perched on a hilltop in the heart of a large parish.
Surrounded by open countryside, the church is believed to have been the centre point of a medieval village that fell victim to the ravages of the plague after which the buildings were abandoned and later demolished, leaving the church to remain in solitude in the landscape.
The present church consists of a Romanesque chancel and nave, a Gothic tower and a porch from 1890 located on the west side of the tower. Granite is primarily used for the Romanesque section of the church and redbrick for the tower, whereas the roof is made of lead and slate. A small sundial is featured on the stonework on the south wall of the nave.
The interior walls of the church are whitewashed and the ceiling is beamed. Highlights of the church include a tabernacle from the 1700s, originally placed in the chancel and now situated above the alter. To the left of the chancel there is a Gothic wooden figure of Saint Anna, which is believed to originate from a previous altarpiece. Embellishing the north wall is a group of paintings with the Holy Communion as a central theme. A memorial adorns the south wall, commemorating the fallen soldiers of the parish during the First World War.
The Romanesque baptismal font is made of a type of granite otherwise unknown in Southern Jutland. The porch features two gravestones and a plaque commemorating the visit by King Christian VIII to the church in 1844.
The cemetery is surrounded by an old granite fieldstone wall that offers access through a brick portal with large wrought-iron gate located to the west. The cemetery is characterised by many large family graves for parish families.
In the church porch you can find a booklet describing the history of the church and its furnishings and artwork.
Several different legends are associated with the two faces embedded in the east wall of the chancel.
Distance
Hiking route The Ancient Road Hærvejen 3,2 km
Cycling route The Ancient Road Hærvejen 0 km