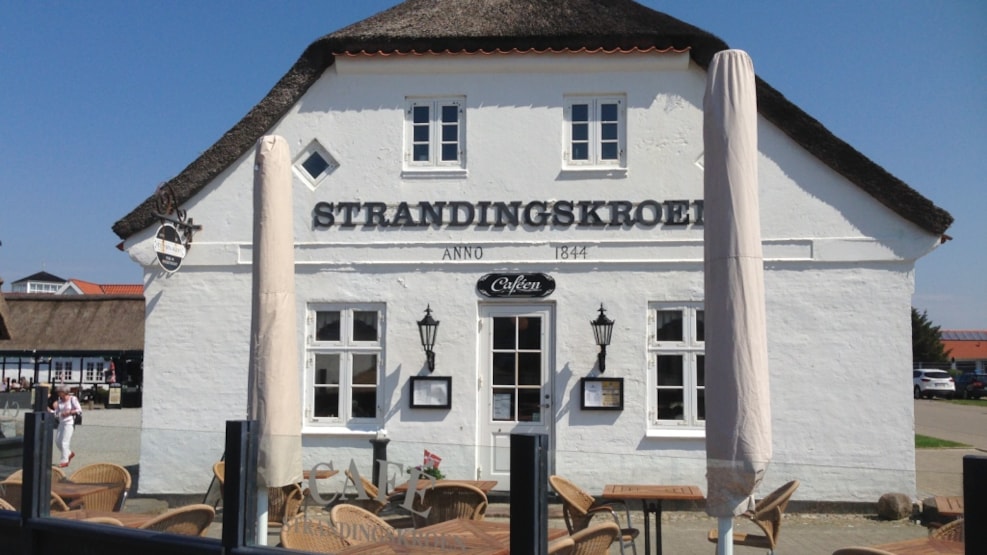 Strandingskroen
Strandingskroen was bought in 2019 by Strandhotellet Blokhus.
Every Tuesday, fried pork and parsley sauce are served, remember to book a table. The rest of the week the restaurant is open for parties.
History
Strandingskroen was the main building of the original, largest "Skudehandelgaard" (craft trade farm) at Blokhus. It is the newest of the farm buildings, built in 1844 in the style of a manor house. The eastern building consists of a very fine private residence, and the western building includes a grocer's- and draper's shop as well as an office.
The farm was always full of activity, and many "out of town" people came to sell agricultural products, particularly butter, which was a very important export article during the period of craft trade. In the middle of the building, there was a large dining room used for feeding the many visitors, and 45 settings were quite normal. Even today this dining room is part of "Strandingskroen".
In former times, "Strandingskroen" was honoured by being given a royal privilege. Crown Prince Frederik, the later Frederik the 7th, visited Blokhus several times. The Majesty was cured of his intense majestic hangovers by Christiane Klitgaard, the then "wise woman" and innkeeper, and received a royal favour for this.