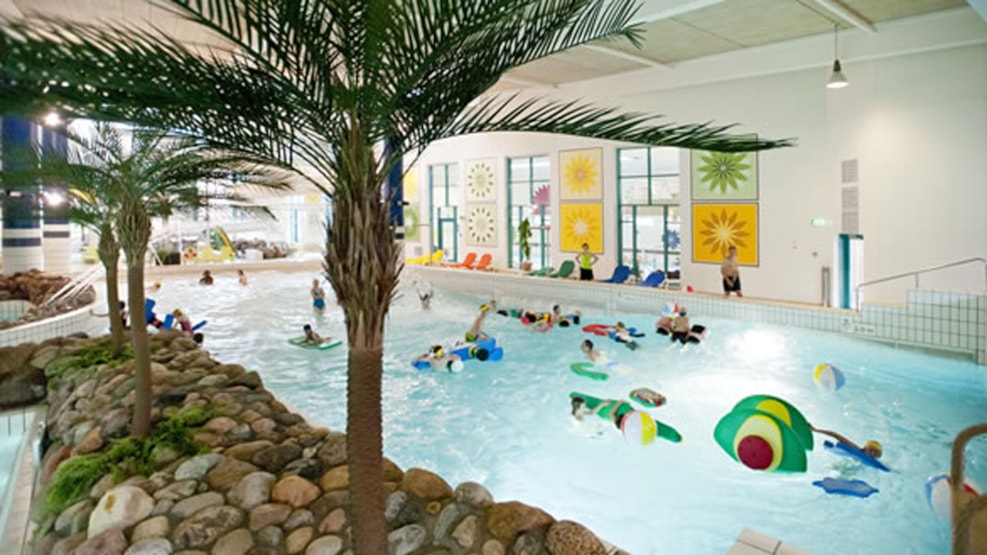 Swim stadium Denmark - Denmark's largest water park
10.000 sqm water sports and family fun in Esbjerg.
Swim Stadium Denmark - Denmark's largest bathing and swimming facility - Tropical water park 10,000 sqm with slides and 10 different pools and baths.
Here are experiences and something to play with for the whole family.
2 great aqua slides (60 and 81 m).
THE GRAY DEEP - 81 meter long slide with sound, pictures and light show starting on the 4th floor.
THE OLD ONE - 60 meter long open slide - with timekeeping.
Children's pool - The little ones can have their fling in the baby pool or in the children's pool, where the depth of water is of 30 and 45 cm respectively.
Swimming equipment and toys - Funny and colourful rubber beach toys and other toys, water wings and belts can be used for free.
Bubbles and countercurrent - Play with the force of nature in the roaring waves of the wave pool - or with the eddy current in the countercurrent canal.
50 metre competition pool
Platform and springboards - Everybody dare to go on 1 and 3-metre springboards, but a platform at the height of 5 m is quite a challenge to most people.
THE BLUE CANNON - 47% free fall from a height of 5 meters - if you dare.
Centre pool - We are able to raise part of the bottom of our competition pool so that it can be used for playing. This pool is not always open, however.
Roman bath - Be at rest in the Roman department with steam bath, sauna, soft-sauna, cold and hotwater pool and jacuzzi.
Also visit Esbjerg Spa & Wellness in the swim centre
Wellness section with sauna, steam bath, spa, therapy bathtub, ice fountain, foot spa, treatment room and relaxation area. Book appointments and see prices on esbjergwellness.dk