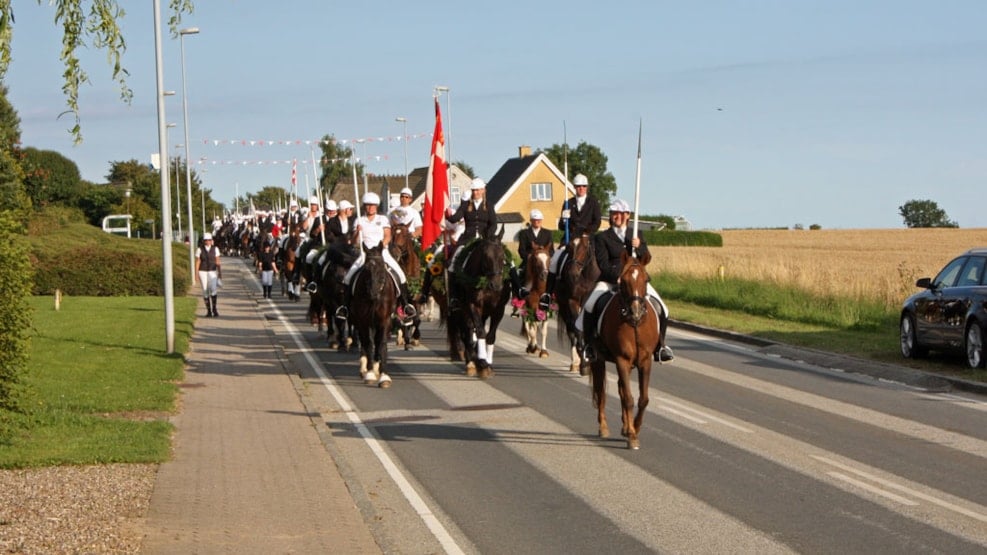 Tandslet Tilting-at-the-Ring
Tandslet Village and Tilting fête.
On the 2nd weekend in August the yearly Village and Tilting-at-the-Ring Fête is held on the tilting ground opposite Sydals-Hallen in Tandslet.
Friday 2023:
16.00 The tilting ground opens
16.15 Tilting-at-the-Ring on tractors and mopeds
18.30 The winner is pronounced
19.00 Sønderjysk pølsebord in the tent – tradition of different kinds of sausage cold cuts
19.00 DJ Music
24.00 The tilting ground closes

Saturday 2023:
10.45 Parade on horse-back, from the adress Pilene 2, to the tilting ground
1.00 The tilting ground with playland for children opens
11.30 The Tilting-at-the-Ring on horse-back begins
12.00 Heering dining in the tent
14.00 Backer Migge from Skovby judge the cakes in the bakery contest
14.30 The winner of the baking contest is pronounced
15.30 Final tilting for the title as King
16.30 Tilting-at-the-Ring for the title as Alssund Champion
17.30 The playland closes
19.00 Tilting eating in the tent (roasted pig with creamed potatoes and broccoli salad)
Through the years, we also have been the venue of the tournament Alssund Championship - the finals, between the riders, who has won a title as King in one of the other tilting events in Sønderborg Municipality this year. Typical 12-15 riders compete for the title as best tilting rider of the year – the Alssund Champion.
NB. The tickets for the various arrangements, such as the meals, are ordered by email or at the grocery store in Tandslet - see the 2023 program with prices under Download.