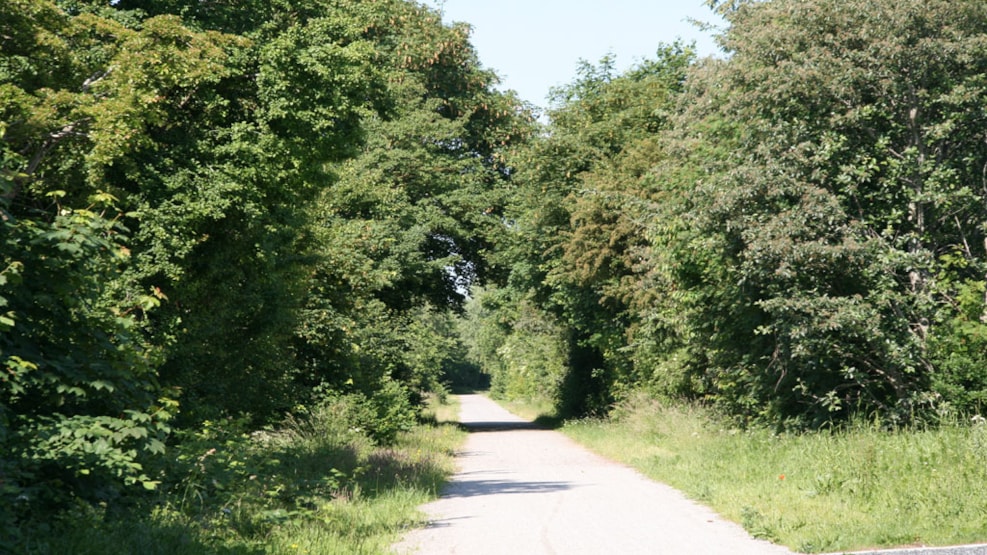 The Trail of Himmerland - 79 km: Løgstør - Løgstrup - Viborg
Himmerlandsstien extends along a 79 km long railway track where the railway between Løgstør and Viborg once ran.
Himmerlandsstien is a nature, hiking, and cycling trail paved with gravel that stretches from Løgstør to Viborg.
The trail passes through varied and scenic landscapes, alternating between hilly moraine landscapes, heaths, meadows near the fjord, and large meltwater valleys.
Such a nature trail on a disused railway track is traffic-safe and has gentle inclines, making it a great alternative for cyclists who prefer not to travel on roads. Riding is allowed on the shoulders.
History
In May 1959, passenger traffic on the Viborg-Aalestrup line ceased, and in May 1966, passenger traffic also ceased on the Hobro-Aalestrup-Løgstør line. In the following years, the railway was only used for freight transport. The last train ran on these lines in 1999. Until the inauguration of Himmerlandsstien on November 11, 2006, the railway stood unused.
"The Soft Kiss"
A locomotive driver from Viborg was known for driving very fast and caused some fear of traveling by train on the route. Due to his ability to charm ladies, he was called "The Soft Kiss" and had several girlfriends along the route. This often caused him to run behind schedule, after which he would drive at a speed far above the allowed limit to catch up on the delay. The postmaster, in particular, was unhappy with this practice, as it made sorting mail impossible - he had enough to do just holding on.
The former railway from Løgstør via Aalestrup to Hobro/Viborg has now been transformed into the cycling route Himmerlandsstien, passing through no fewer than 12 station towns on its journey through the beautiful countryside.
From Trains to Pedal Power
It took four years to build the railway but just as long to clear the 82 km of tracks (5500 tons of steel) and the 130,000 sleepers before the cycle path could be used. Access to the 79 km long cycle path is now possible in the towns along the route and at intersections with public roads.
Find more information and maps of the route here!