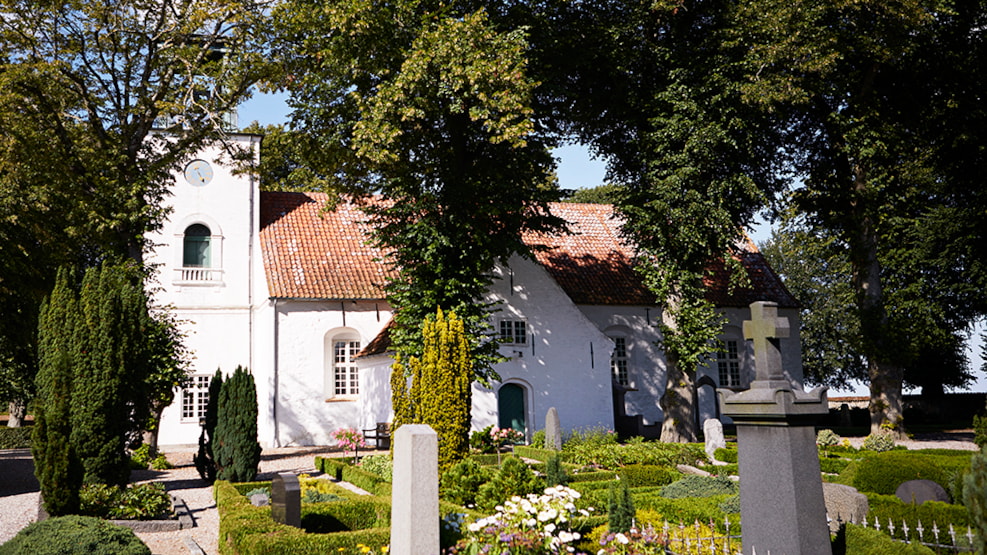 Tranderup Church
Romanesque church with built-in Gothic vaults
The oldest piece of furniture is the large figure of the Virgin Mary with the Christ Child (approx. 1300), which is now placed in the doorway of the original women's entry.

The triptych (approx. 1510) dates back to Catholic times, and the large fresco above the rood arch dates itself to 1518. At both sides of the chancel wall, niches have been found that probably held altars to the saints.
 
Before the erection in 1832 of its present neo-classicist belfry on the tower, most likely drawn by C.F. Hansen, the church had a steeple like those on the church towers in Bregninge and Rise. The biggest bell was cast in 1566 and is still being used. The small bell was replaced by a new one which was consecrated on the first Sunday in Advent 2011. The acquisition is due to the late Laurits Fabricius Eriksen, a local farmer, who in his will had remembered the church.
Organ, 4 stops, Peder Hansen, Gudme, approx. 1850.
In 2003 Hans Billum, Marstal, donated an embroidery designed by "Håndarbejdets Fremme" in 1945, entitled "The Garden of Eden", now on display in the porch. He took eleven winters to embroider it.
All Ærø's churches (except Ommel) are open all year at 8.00-16.00, except when church acts take place.