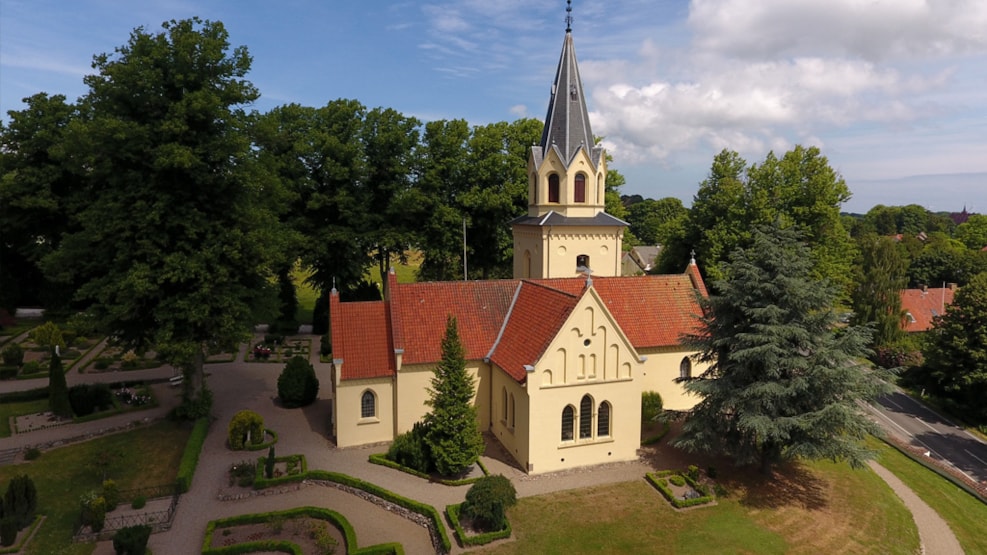 Tranekær Church
Tranekær Church stands at the south western entrance to the village of Tranekær. It was originally built in1450 in gothic style.
The church is open to the public during the summer months, June,July and August, every day except Sundays
Histor
y
The church was built on the site of an earlier village church that dated from the 12th century.It is believed it was built in the same style as the old church barn which stands near the entrance gate. The church tower has two bells, one of which dates from 1472 and is inscribed with name of Christian I.
While "The General", Count Frederik Ahlefeldt-Laurvig, was the master of Tranekær Castle, he brought about many great changes to the village, and the church was no exception. A radical remodelling of the church was carried out in 1804, giving the church a different style. A cupola and balconies replaced the spire, the church interior was altered, and both the altarpiece and pulpit were removed. The church's votive ship "Mathilde" has hung in the church since 1735.
In 1886 the church was again renovated by one of the General's descendents, he was a man with the same name as the General, and was referred to as "His Excellency". He gave the church the Romanesque-Gothic  appearance it still has today, the wall were given a wash of yellow pigment, and an octagonal spire was added to the tower. During this restoration the church was also furnished with a new altarpiece and pulpit, which was made by the carpenter in Tranekær.
The cemetery and its surroundings
This manor church belonged to the owners of Tranekær Castle until 1942, and in the churchyard you can find the mausoleum of the Ahlefeldts family, where many members of this noble family have been laid to rest. The mausoleum has large double doors of marble and sandstone.
The entrance to the cemetery is flanked by two impressive linden trees which are around 250 years old and amongst the biggest in Denmark. The cemetery also contains the graves of two Russian prisoners of war who were stranded on the beach at Påø Strand (link).  
Source: The Churches of Langeland, Langelands Museum.