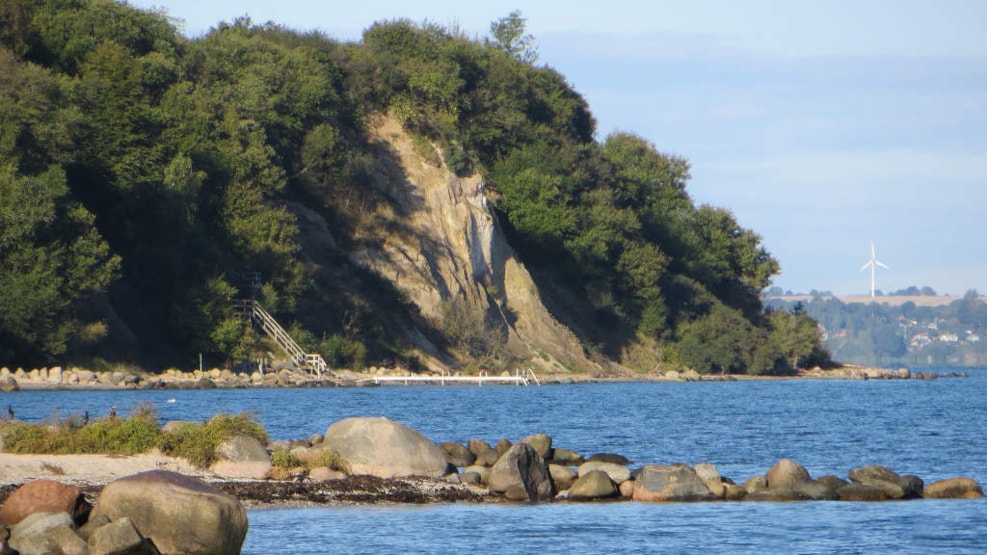 Trelde Næs
Trelde Næs is a unique natural area with forests, tidal meadows, high cliffs and a Blue Flag bathing beach.
Denmark's Most Beautiful Natural Area
Trelde Næs is a large natural area located north of Fredericia next to Vejle Fjord and the Little Belt. The area contains both forests, meadows, clay slopes and a beach and a rich plant and animal life with many rare species. The natural area is included in Danmarks Naturkanon (Denmark's Nature Canon) as one of the country's 15 best natural environments selected by the Danish Environmental Protection Agency and is one of the areas which the Danish Society for Nature Conservation has designated as particularly worthy of conservation.
Trelde Næs offers many excursion opportunities. You can enjoy the beautiful nature via the area's large trail system or you can plan your next swimming trip. The beach at Trelde Næs is a Blue Flag beach and has a high water quality. At Trelde Næs there is also a nature centre where you can borrow equipment and participate in various events.
Plan Your Excursion
Whether you are by car, bus or bicycle, it is easy to get to Trelde Næs.
Free parking: There is a large free parking area at Trelde Næs with direct access to both the forest and the beach. The parking area's address is Trelde Næsvej 290, 7000 Fredericia.
Public transport: Town bus 6 runs to Trelde Næs and has a stop at the parking area of Trelde Næs. You can find more information about the timetable here!
At the parking area of Trelde Næs there is an information board and folders with a map of the area and the 5 km long hiking route around the headland Næsset Rundt. Remember practical footwear and clothing. You can also experience Trelde Næs by bicycle via the 34.4 km long cycle route cykelrute T8 which leads you through the town of Fredericia and on to the beautiful nature of Trelde Næs.
The headland's rich plant life also means that there are good opportunities for gathering plants and herbs along the forest and beach. Trelde Næs has its own sankerute (plant and herb gathering route) which gives you the opportunity to enjoy the area's beautiful surroundings while gathering plants and herbs.
Practical Information
Toilet facilities: You will find toilet facilities at Naturcenter Trelde Næs. The toilet facilities are basically available throughout the year, but during shorter, particularly cold winter periods, the toilets may be closed due to risk of frostbite.
Disabled-friendly: You will find a disabled toilet at the old breeding farm near the parking area. The disabled toilet is open throughout the year.
Food and drink: It is not possible to buy food and drink at Trelde Næs. The nearest shopping option is Dancamps Trelde Næs Camping kiosk located approx. 800 meters from the parking area at Trelde Næs.
Nature Centre Trelde Næs
At Trelde Næs Strand, only a few minutes' walk from the parking area, is Naturcenter Trelde Næs. The centre contains information about the area's plant and animal life, toilet facilities and a so-called equipment bank. In the equipment bank you can borrow equipment for various activities in nature for free, e.g. crab fishing rods, fishing nets and campfire equipment.
The nature centre is available every day of the week during the time period:
From April to September at 08.00 (a.m.) - 21.00 (p.m.).
From October to March at 10.00 (a.m.) - 17.00 (p.m.).
Trelde Næs Beach
If you are more into a swim, Trelde Næs Strand is worth a visit. Trelde Næs Strand is a family-friendly natural beach with a sandy bottom and a good bathing jetty. It is only a few minutes from the parking area and has the Blue Flag det blå badeflag. The beach area borders on a wide tidal meadow where there are several tables and benches and a built-in fire pit. Near the beach is the nature centre where you can borrow equipment for e.g. crab and shrimp fishing. There are also toilet facilities here.
Water Activities at the Coast
The coast along Trelde Næs is also particularly suitable for both kitesurfing, windsurfing and stand-up paddleboarding. You can read more about surfing at Trelde Næs here! If you are more into snorkelling, you can also try your hand at Trelde Næs' new snorkel trail snorkelsti.
Fishing Grounds in the Area
At Trelde Næs you have good opportunities to catch a fish for your dinner. It is possible to fish along the coast of Trelde Næs, especially in the area around the reef which lies off Trelde Næs. You can read more about fishing around the reef here! Another good fishing area is at Trelde Klint. You can read more about this fishing ground here!
Shelters and Accommodation at Trelde Næs
At Trelde Næs there are two shelter locations: Shelterplads Nord (Shelter Location North) with 2 shelters and Shelterplads Syd (Shelter Location South) with 4 shelters. You can book shelters at both shelter locations via this link. At Shelterplads Nord there is a green area where it is permitted to set up a tent even if you have not booked a shelter. You can read more about it here! Close to Trelde Næs is Dancamps Trelde Næs Camping where you also find different options for accommodation.
A Very Special Landscape
Trelde Næs lies on a large clay bank which goes all the way to Fredericia. The subsoil is therefore almost pure clay which helps to create the distinctive landscape of the headland with large clay slopes. The southern coast of Trelde Næs which faces the Little Belt consists of a 6 km long clay slope. The slope which is the longest of its kind in Denmark collapses at regular intervals creating completely unique clay formations along the beach.
The northern side of the headland (Næsset) also consists of steep slopes. The slopes contain relics of the past, both in the form of deposits from previous ice ages, the oldest more than 50 million years old, and large amounts of fossils to be found in the area at the foot of and along the slopes.
Be aware that the slopes can slide!
The Special Diversity of Trelde Næs
The forests at Trelde Næs have been designated by the Danish Society for Nature Conservation as one of the areas in Denmark with the highest biodiversity. The area is known for being home to a particularly large number of orchid species including several rare ones such as large orchids which can only be found in very few places in Denmark.
The large forest area of Trelde Næs is also home to many bird and animal species. Birds of prey such as common buzzard, kestrel and sparrow hawk have permanent breeding grounds in the forests. On your walk around the area you may also be lucky enough to spot a tawny owl or one of the rarer black vipers, or you can go hunting for the more than 200-year-old oak trees which can still be found in the forest.
Mushroom hunting
Trelde Næs is also one of Jutland's best areas for mushroom hunting, and with its more than 120 different mushroom species you can find numerous edible mushrooms, but also poisonous mushrooms and several protected mushroom species, so do not go mushroom hunting if you do not have in-depth knowledge of the appearance of the different mushrooms.
If you want to go on a mushroom tour with an expert, Naturpark Lillebælt (Nature Park Lillebælt) regularly organizes mushroom tours with a guide. You can see an overview of future tours and book a ticket here!
The History of Trelde Næs
Trelde Næs' long history contains both bloody battles, epoch-making events and incredible stories. In the Middle Ages Trelde Næs was allegedly the home of the fabled Grev Trolle, also called Næssekongen, who settled on Trelde Næs after being outlawed by the king. From here he robbed both on land and at sea and was particularly notorious for his bloody behaviour.
Since ancient times Trelde Næs has been inhabited by both fishermen and farmers who were often involved in the riots characterizing the area. During the Swedish Wars in 1657 the local farmers had to flee from the Swedish Army which had occupied Trelde and burned down houses and farms. The farmers fled to the headland (Næsset) where, according to the story, they lived in caves (of earth) for more than one year before they could return to their homes.
Up through the 1900s Trelde Næs has had several owners all of whom have contributed to the creation of the natural area which exists on the headland today. In 1919 the area was bought by the businessman Harald Plum who had made a fortune as a so-called goulash baron during the First World War and who owned the Transatlantic Company. He wanted to use the area as a holiday resort and a place of refuge for his employees, but he also contributed to a major urban renewal on the headland and in Trelde. Plum's visions for the area formed the basis of Trelde Næs as a recreational area, and after his financial bankruptcy and comedown in the 1920s the area, which had both a summer boarding house and a restaurant, continued to be a favourite excursion destination for the inhabitants of Fredericia.
Næssedronningen (the Queen of the Headland)
From 1930 until 1966 Trelde Næs was owned by the businesswoman Fru Ane Ryholt (Mrs Ane Ryholt) also called Næssedronningen. Ane Ryholt was a reserved personen who was extremely protective of her privacy when she vacationed in Troldehuset, the former summer boarding house, and the many visitors on the headland often came right up to her house, looked through her windows and entered her house unannounced. This became too much for Næssedronningen who installed barbed wire and closed off the tip of Trelde Næs, much to the annoyance of the local population. There were rumours that behind the barbed wire there were vicious guard dogs and angry bulls and that Næssedronningen was prepared to use her shotgun if anyone moved on to the grounds.
Until her death in 1968 Ane Ryholt continued to be a determined lady. This was especially felt by a German commander who had taken up residence in Troldehuset during the occupation of Denmark. When Næssedronningen heard that the commander had moved her sofa and beloved grand piano outside, she immediately went to Trelde Næs to scold him. When she sold the land on Trelde Næs in 1960, it was also with the requirement that she could live in the area until her death. When Fredericia Kommune bought Trelde Næs and protected the area, Næssedronningen, who many thought looked more and more like a witch from a fairy tale, was part of the bargain. The municipality made sure to fence off her house so that she could continue to live there without being disturbed by the guests who could once again visit the headland.
When Mrs Ane Ryholt died, her ashes were spread on the lawn at Troldehuset, and Fredericia Kommune later erected a buste on the spot in memory of Næssedronningen. It is rumoured that Næssedronningen still keeps a watchful eye on the area around Troldehuset (the Trolls' House) which has been converted into a camp school.
See What Others Are Sharing on Instagram