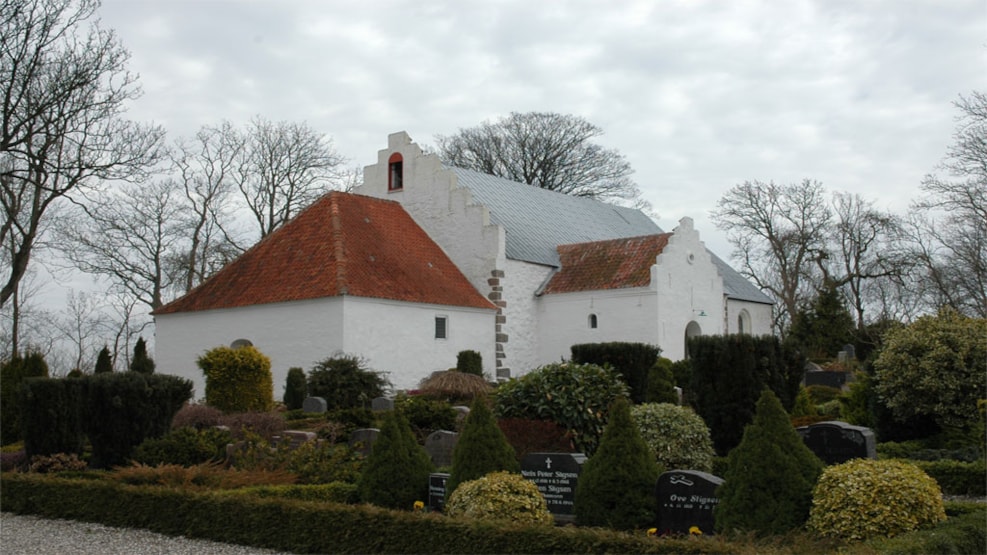 Tved Church
Tved Kirke is beautifully located on a hillside overlooking Knebel Vig, approx. ½ km. north of the village of Tved. It is believed that the church is the oldest church on Mols, built in the first half of the 12th century. The church is also the largest church on Mols, with approximately 200 permanent seats.
The building is whitewashed and both the ship and the choir are covered with lead. The church lacks the typical tower, which is a rare sight on Mols. Where you should expect to find the tower, that is to the west, is a large chapel which is tiled. This chapel is possibly the bottom of a former tower. In 1940-42, the church was given a thorough restoration, and during the work of laying a new floor, they encountered an old crypt, which has been used for burials by the old noble family from Kvelstrup and Isgård.
According to the legend, the church should have been placed between Tved and Dejret.
However, the troll tore it down every night, and so they decided to find a new building site. they did so by tying two heifers together, and where they were found grazing the next morning, would be the place where the church had to be built.
And that the parsonage ground is the parish's best, is a fact.

Open weekdays between 8-16. however, it may be closed due to ecclesiastical acts.