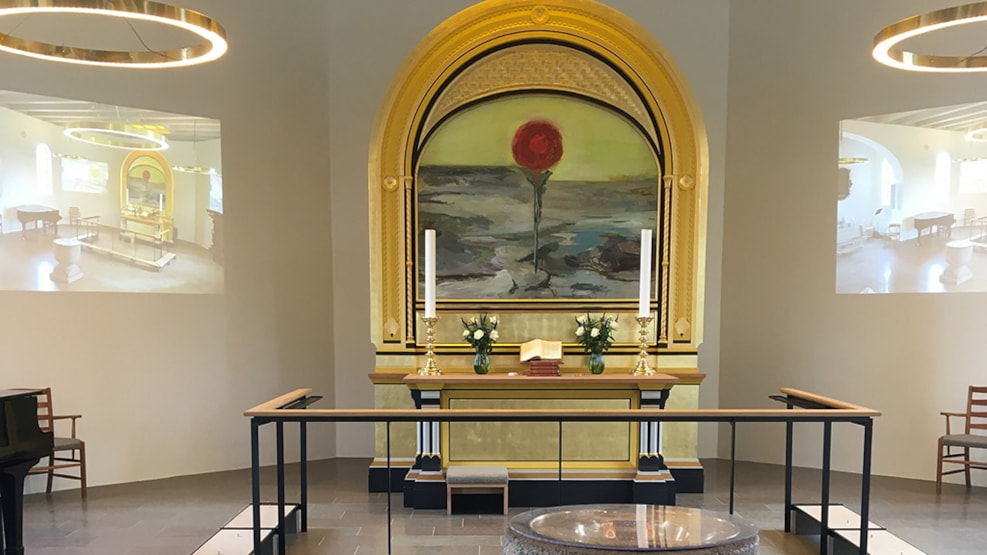 Vejen Church
Vejen Church is located right next to the Ancient Road, Jutland's old main thoroughfare. The church itself is of newer date so take a look at the cemetery opposite where you'll find the traces of the old church.
The present church was consecrated in 1896. When the railway to Esbjerg was laid in 1874, Vejen developed from a village to a town. The old church soon had difficulty coping with the Sunday attendance so the citizens of Vejen decided to build a new and more spacious church.
The present church was designed in the neo-Romanesque style with red brick and slate roof by architect William Ahlmann. The brickwork is adorned with simple interspersed bands of limestone. The church consists of a nave with a chancel and a tower. There are reclaimed building materials from the old church, including a distinctive portal from a clergyman's door with bas-relief and plinth stones in granite.
Most of the inventory is reused from the old church, such as the baptismal font in granite. The arched altarpiece is designed in the Skønvirke style (a Danish version of Art Nouveau) with a painting depicting the "Descent from the Cross", painted by Carl Holsøe. The pews in the Skønvirke style are from the consecration of the new church. The psalm number boards are adorned with parts of the canopy from the former pulpit in the old church. The five front pews are fitted with recycled carved panels from the old church. The rest of the pews are of recent date.
The old church
The old Romanesque ashlar church was probably built around 1200, and is mentioned in historical sources from 1280. The church was located at the southern end of the original village with a north-facing porch. The old church included a nave, chancel and a late medieval tower and porch. The original altarpiece has been placed in the wing o the new church. The old church featured details that were unusual for the area at the time.
The cemetery
The old church floor plan is marked by low hedges in the cemetery opposite the contemporary Vejen Church, and there is a memorial stone. The cemetery is dominated by a considerable amount of gravestones designed by sculptor Niels Hansen Jacobsen as well as the remains of two prehistoric barrows. One of the barrows is included in the burial area, although today it only constitutes a slight elevation used for urn burials. The original cemetery is located in the current northeast corner.
Distance
Hiking route The Ancient Road Hærvejen 0 km
Cycling route The Ancient Road Hærvejen 0,4 km