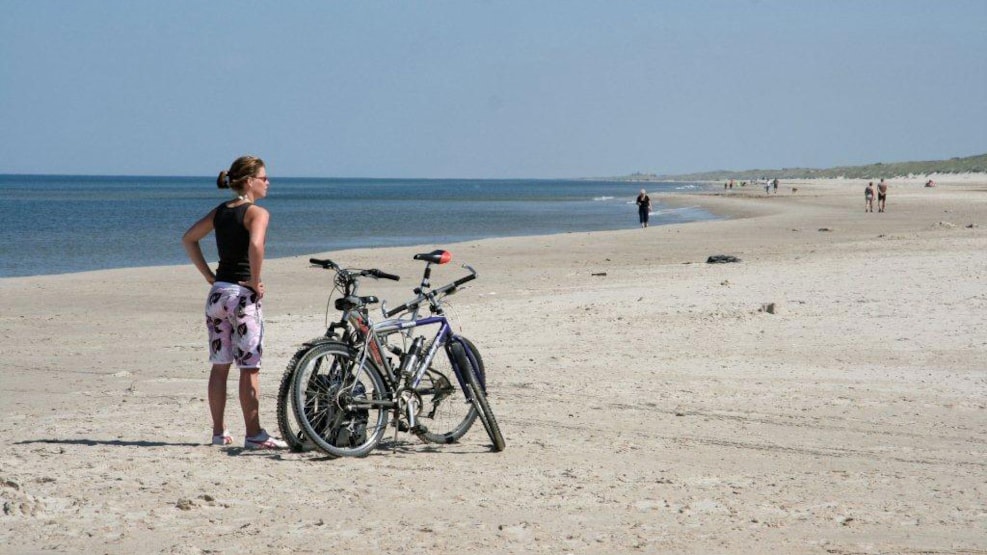 Vestkystruten 1 (national cycle route)
Discover Vestkystruten and explore the beautiful beach towns along the north Jutland west coast.
The West Coast Route (Vestkystruten) is a 560 km north-south long cycle route following Danish Jutland's west coast. Along the route, you will experience huge landscape differences - from the flat marshland in the South, over the narrow isthmus of West Jutland to steep dunes in North Jutland.
The West Coast Route comes along the beach from Blokhus to Løkken. Løkken is famous for its beach with rows of white beach huts. They are out on the beach from May to September and in this period Løkken is a lively town with many shops, restaurants and many fun activities for families.
From Løkken, the West Coast Route continues to Lønstrup and passes right by Rubjerg Knude Fyr (Lighthouse). Lønstrup is a picturesque town situated in a valley. Over the years, Lønstrup has attracted many artists who have settled in the town with workshops and galleries.
From Lønstrup the West Coast Route runs through a distinctive inland dune landscape and further through Tornby Klitplantage (dune plantation) in direction towards Hirtshals. Hirtshals is an active fishing and shopping town with ferry connections to Norway, the Faroe Islands and Iceland. Magnificent scenery and sandy beaches surround the city. The North Sea Oceanarium, North Europe's largest aquarium is situated In Hirtshals.
From Hirtshals the cycle route continues through Lilleheden and Uggerby dune plantations to Tversted. Tversted attracts visitors with breathtaking sunsets, beaches, art, jazz and the genuine atmosphere of a beach holiday with peace and joy.
The West Coast Route continues from Tversted through Råbjerg Mile (migrating dune) to Skagen. Skagen is an international tourist destination with visitors from around the world. The two seas; Skagerrak and Kattegat meet at "Grenen" in Skagen - this rare and the famous sights as well as the Skagen painters has made Skagen famous worldwide.