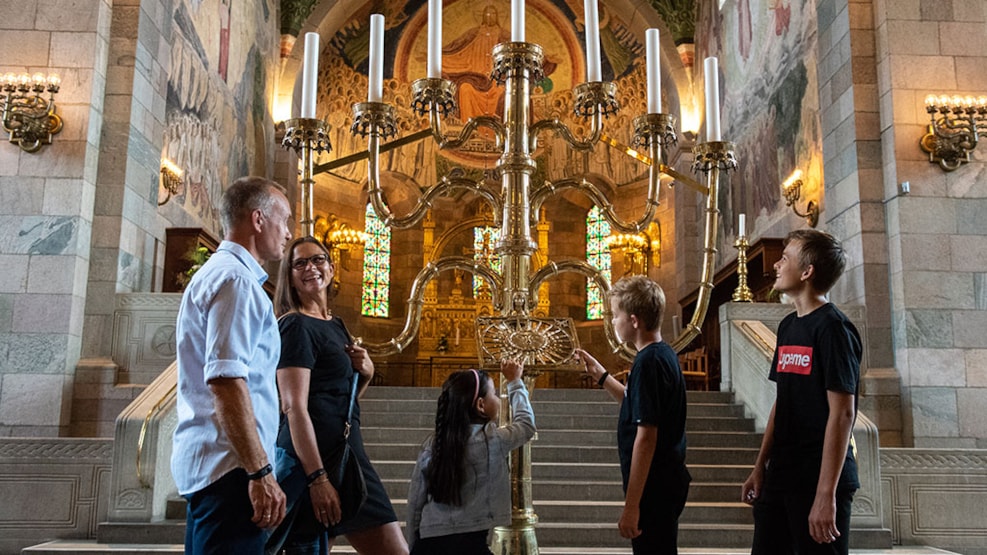 Viborg Cathedral
Viborg Cathedral was originally built in the 12th-13th century in Romanesque style and holds a strong presence in both the cityscape and the city's long history. Over time, the cathedral has been ravaged by multiple fires and has been reconstructed and rebuilt several times. It is now also one of the world's largest granite churches.
Historical highlights of the Cathedral
In 1060, Viborg gained the status of a cathedral city, but it was not until 1133 that the church was completed with its four towers, side aisles, choir, and crypt. Unfortunately, the church has been struck by fires on several occasions, most recently in 1726, which left only the walls and crypt.
Therefore, the crypt is the oldest part of the cathedral, taking you back nearly 900 years in time. In the small crypt chapel stands a coffin with leather covering, containing the embalmed nobleman Valdemar Daa. Hans Christian Andersen himself has written a well-known tale about Valdemar Daa in "The Wind Tells of Valdemar Daa and his Daughters."
The City of Royal Homage
Viborg, as a city of royal homage, has paid homage to at least 37 monarchs. Among them, Erik Klipping found his final resting place in the cathedral when unknown assailants murdered him in 1286. It happened with 56 stab wounds in Finderup, just outside the city. Under a stone in front of the altar lies a lead casket with symbolic remnants.
The Expression of the Church
As the church stands today, it is from 1876. After the fire in 1726, it was quickly rebuilt, but the work was not done properly. Therefore, it was closed in 1862 and completed 14 years later, with the original style and layout preserved.
Many authentic details testify to the church's long history, such as the two lions and two faces on the exterior granite of the choir. Cobblestones in the churchyard indicate the location of the old church's additions.
From 1901 to 1906, Joakim Skovgaard and his assistants painted the cathedral's famous picture Bible. Using wet plaster, they worked magic with their lime colors, and the frescoes speak a language that everyone can understand.
Next to the church is the Skovgaard Museum, which exhibits works created by the Skovgaard family of artists.
Read more on Viborg Cathedral's website. Or even better, visit the church.
Enterence: 10 DKK. Free access for accompanied children 0 - 14 years old.
Closed for visits during religious ceremonies.
See what others are sharing on Instagram