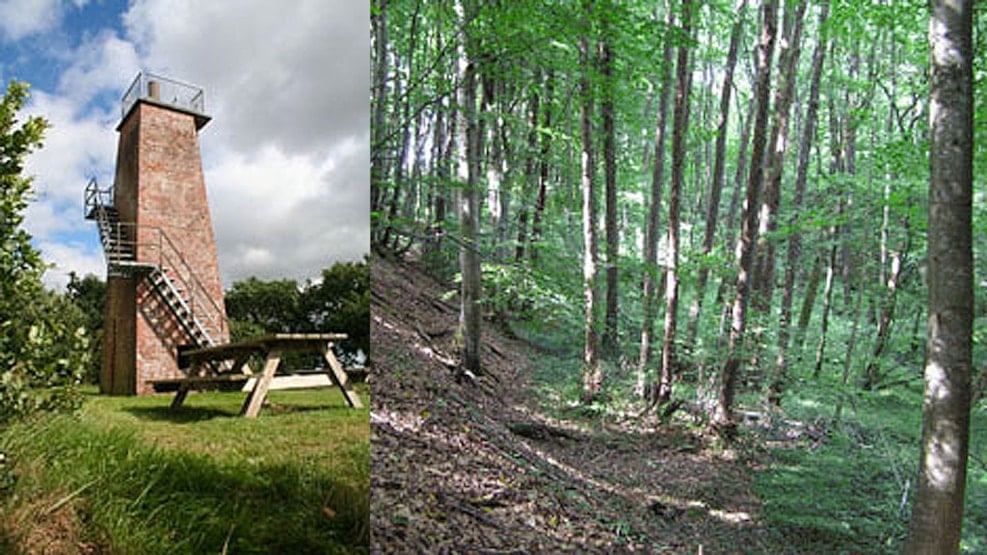 Vongshøj - Løgumkloster
one of 50 tomb hills on top of the hills of "løgumbjerg", closed to Løgumgård. The legend tells about the giant Vong, who had become christian and was buried there. 
From the tower you will get a view all around. In the west you can observe the sand dunes on the islands Rømø and Sylt, in the south there are the town Tønder and Tinglev, in the east the hilly landskab of Aabenraa and in the north Ribes tower and mayby the harbour from Esbjerg.
There are 2 possibilities to go there: 
A halv hour walking trip from parking spot closed to Løgumgård, road 25. Or you take the road 401 between Skærbæk and Løgumgård. Closed to Vesterterp there is a small road signed with "Vongshøj". 
Sønderjyllands højeste punkt er Vongshøj. På toppen af Løgumbjerge ligger en gruppe på omkring 50 gravhøje. Vongshøj ligger højest, og den prydes af et 5 meter højt tårn. Et sagn fortæller, at kæmpen Vong ligger begravet i højen. På tårnet, der er 67 meter over havet, er der frit udsyn over landskabet. Udsigten over hedeslette og bakkeøer er storslået. Mod vest ses klitterne på Rømø og Sild, mod syd ses Tønder og Tinglev, mod øst bakkelandskabet ved Aabenraa og mod nord anes Ribe Domkirkes borgertårn. I klare nætter kan blinken fra fyret på Blåvandshuk skimtes.

Ved indkørslen til rastepladsen ved Løgumgårde starter stien til Vongshøj. Turen derop tager ca. en halv time og går gennem et bakket område med en lille skov med krogede træer. Små træbroer fører over de rislende bække, som bryder stilheden. I skoven er der bøg, egekrat, bæverasp og røn. I skovbunden dominerer skovsyre og stor fladstjerne.