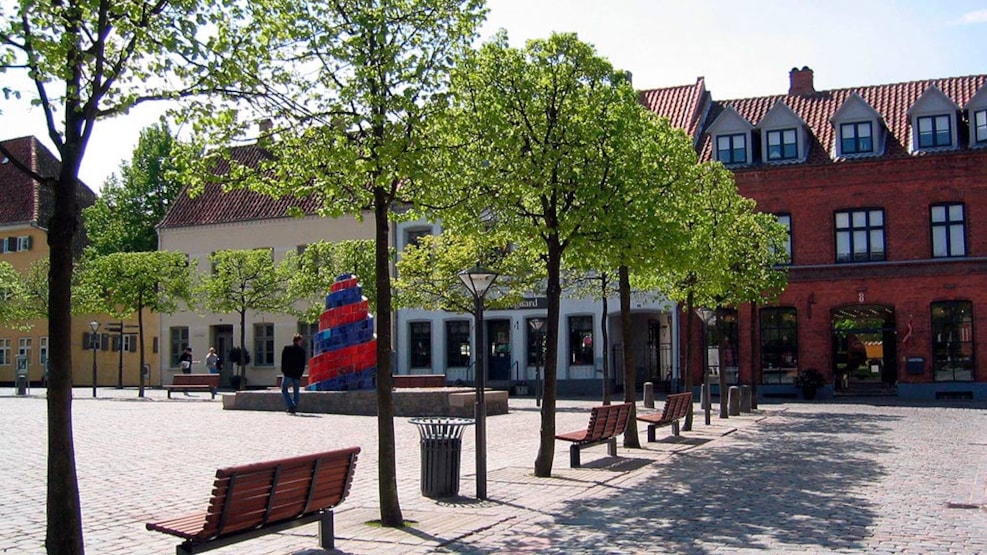 Water Spiral Sculpture
Odense Bys Kunstfond announced a competition to decorate Sortebrødre Torv and invited eight artists to participate. The winner was Niels Guttormsen's "Water Spiral Sculpture", which the Albani Foundation donated to the city of Odense in connection with the 125th anniversary of the Albani Breweries in 1984. Except for a few breaks to repair some damage, it has been there ever since.
The sculpture consists of a tall babel-like spiral covered with red and blue tiles, resting on a rectangular cobblestone plinth. The cobblestone base has an angular geometric pattern of tiles on one side of the high spiral and a spiral of yellow tiles on the other. The shape of the sculpture's plinth reflects the shape of the square itself, and the coloured glazed tiles contrast nicely with the rough cobbles. In this way, it mimics the contrast between the cobblestone square and the fine plastered facades around it.  
Niels Guttormsen was very interested in the spiral figure in the 1980s. When the Water Spiral sculpture was still just an idea, he wrote: "The structure is visible in the outermost star systems that form the boundaries of astrological knowledge, in the ocean currents of the great oceans, and the eddy of my sink when I let the water out. The spiral depicts opening and expansion and is considered an archetypal form. Here is the dynamic growth principle of expansion, and at the same time, it is one of the strongest and most used ornaments."
Niels Guttormsen (1932-2020)
Niels Guttormsen graduated from the Academy of Fine Arts in 1962, after which he painted abstract paintings until he became interested in sculpture through his acquaintance with Robert Jacobsen, among others. He also took an interest in the concrete art movement of his time. As a sculptor, he took inspiration from American minimalism and contemporary Danish sculptors such as Hein Heinesen, and this was when space became central to his sculptures. He distanced himself from American sculpture through new material choices such as painted wood.