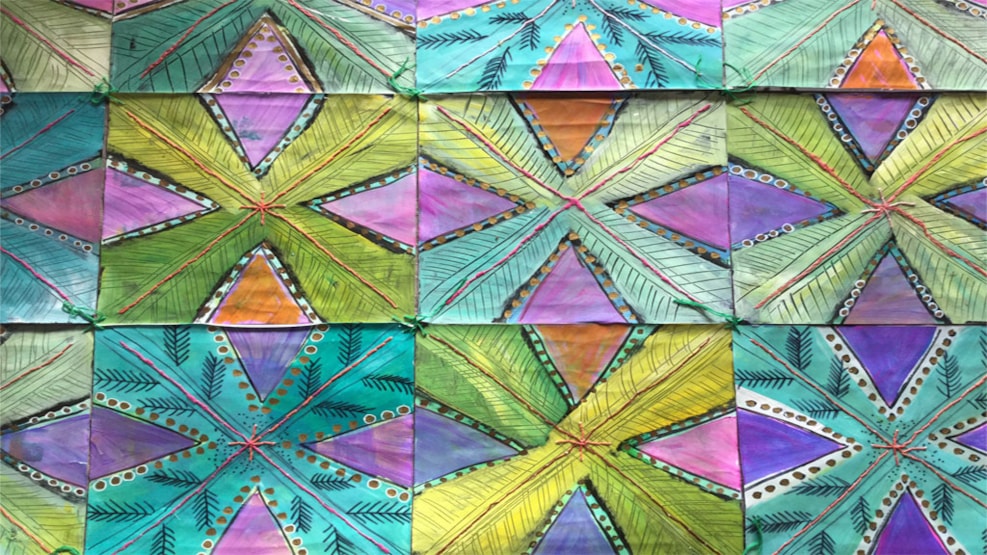 Weaver/artist Annette Bredstrup
Annette Bredstrup works with weaving, collages, and acrylics. She sees pictorial weaving as a fascinating way of painting with threads.
Inspiration
Among the many sources of inspiration, have been the flourishing of the traditional weaving styles, which they developed among the weavers in Copenhagen in the 1970s. Another is nature, which she enjoys in full drag here where she lives at the foot of the Mols Bjerge. She tends to find the motifs by the sea, in the hills, the forest, and the blue sky. She finds the patterns, signs and symbols included in her images in ethnic folk art from many countries.
The process
Faced with the slow weaving process, collagen and acrylic images stand, an image form that is freer, faster and with greater opportunity to experiment. In the collage, she uses materials such as chalk, watercolor, copper wire, handmade paper and feathers from guinea fowl.
Consistent with both image forms is her use of powerful and happy colors. A joy she also experiences through dance and folk music. She has spent the last few summers travelling to the Nordic countries, gaining inspiring experiences from dance and music.
See what others are sharing on Instagram