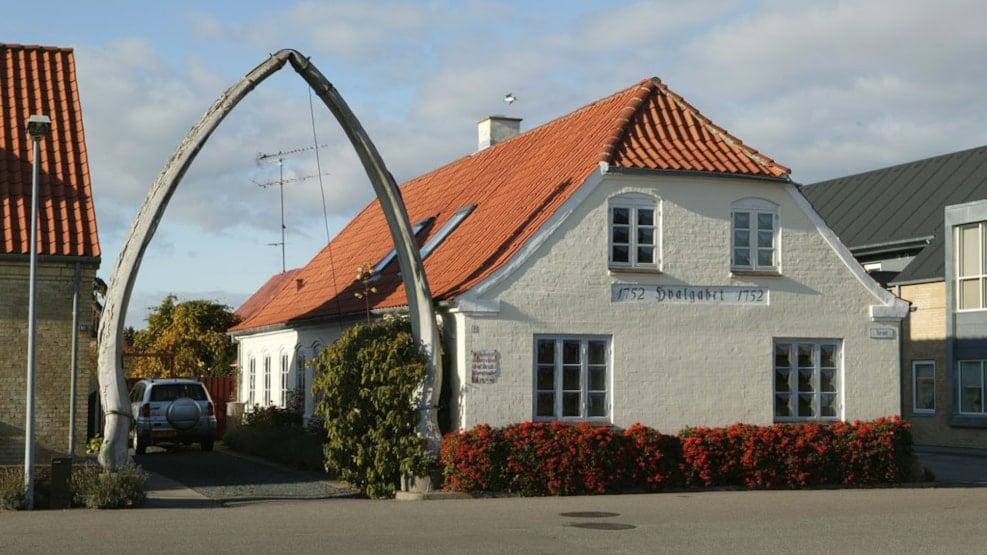 The Whale Jaws
The new whale jaw is made by Tech College students. It is made from glass fibre and matches the original dimensions. The original jaws are kept at the Art Historical Museum to shield them from the elements.
The original whale jaws, which are a trademark of the town of Hals, came from a blue whale that was shot in the Barents Sea in 1868 by Captain C. Klitgaard from Hals. They were then was put up in front of his house by the town square, where they remained until 1953, when they were run into and damaged by a truck.
By then, the jaws were both too worn and damaged after they had been sawed into pieces in order to free the truck. The owners of the jaws, the local tourist union, received compensation and immediately went searching for a replacement – Hals without its whale jaws just wouldn't do!
Hals got its new jaws
The chairman of the tourist union, Svend Kragelund, was responsible for the purchasing of a new jaws. He travelled to Copenhagen, where A.P. Møller referred him to one of Norway's greatest whalers, Thor Dahl from Sandefjord. His whaling ship delivered a new set of jaws to the port in Aarhus, April 27 in 1955.
The compensation actually remained in the bank because Lars Christensen, vice-consul of Sandefjord, endowed Hals with the new whale jaws. It was, yet again, from a sizable blue whale of 30 metres and 90 tons. Visitors are often astonished by the enormous jaws.
Impressive – Also as a replica
The whale jaws from 1955 are kept in the museum, safe from the elements and bolting trucks. In its place, a more durable replica was made from glass fibre. Even though it is a replica, you will still be in awe standing in front of the imposing monument.