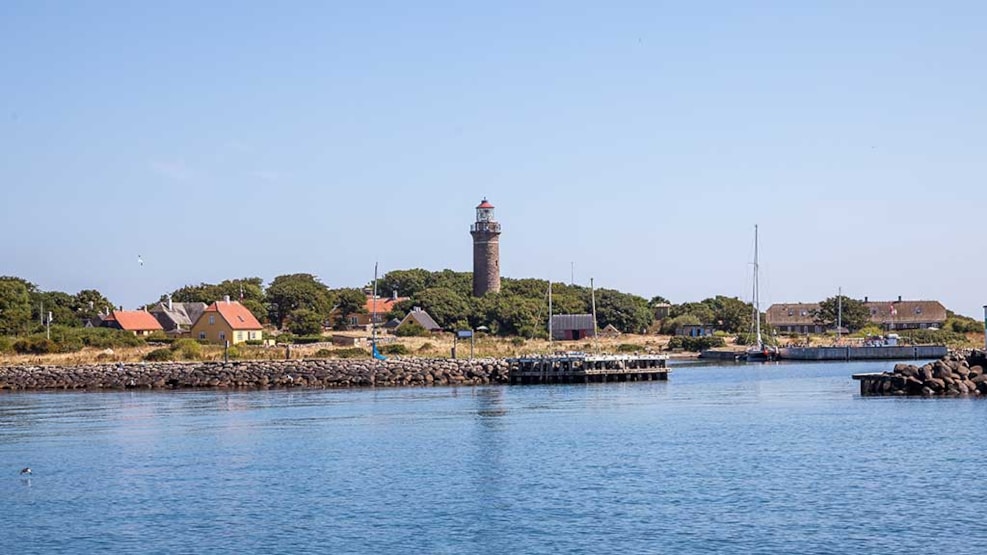 Hirsholmene
The archipelago Hirsholmene, which is Denmark's northernmost, is located approx. 7 km NE of Frederikshavn on a flake that emanates from blue clay and sand on rock reefs, brought together during the ice age.
The landscape.

The name Hirsholmene or Hælsholmæ means "the island with the neck". The islands lie about 7 km north east of Frederikshavn in shallow water between Napstjert in the north and Bangsbo in the south. They were formed by blue clay and sand deposited on reefs formed in the Ice Age. The islands consist of Hirsholm and Græsholm with several islets and reefs.
The islands are a paradise for birds, protected by law since 1929. Outside Hirsholm, all traffic is forbidden. In addition to the rare species, there are colonies of seagulls on the islands, which are also used as resting-places by migrant birds.

The inhabitants.

Potsherds and flint stones are proof that the islands were inhabited in prehistoric time. The maximum population of 225 was reached in the 1870's. Until 1583 the islands were Crown property, then followed a number of different noble owners. In 1884 the islands were bought by the Danish Navy and are now owned by the Ministry of Defence.

The church and school.

The church dates from 1641. Before this, the locals had to use the church in Elling on the mainland. Cases of children dying before baptism, and bodies waiting for up to five weeks before burial, resulted in a living being established on the island.
Nobleman Otto Skeel built an oak half-timbered church. This was later bricked and the porch added. The islands are now part of the Parish of Frederikshavn and a few services take place each year.The first school was started in 1641, but in 1970 the islands became part of the city of Frederikshavn and the school was closed.

Trade.

From the 17th to 19th century, fishing was the main occupation. Ship-piloting, once a source of income, was discontinued in 1916, partly due to the opening of the Kiel Canal. Ship wrecks have also given extra income, and smuggling was not entirely unknown. The lighthouse and mail boat also gave employment. The 1883 lighthouse is part of the home of the lighthouse keeper, now the island's supreme authority.
From 1760 to 1909 the island had a combined inn and general store, the only shop the island has seen. The mail boat started in 1782 and there are now three weekly sailings from Frederikshavn. 

Dogs and cats are not allowed !