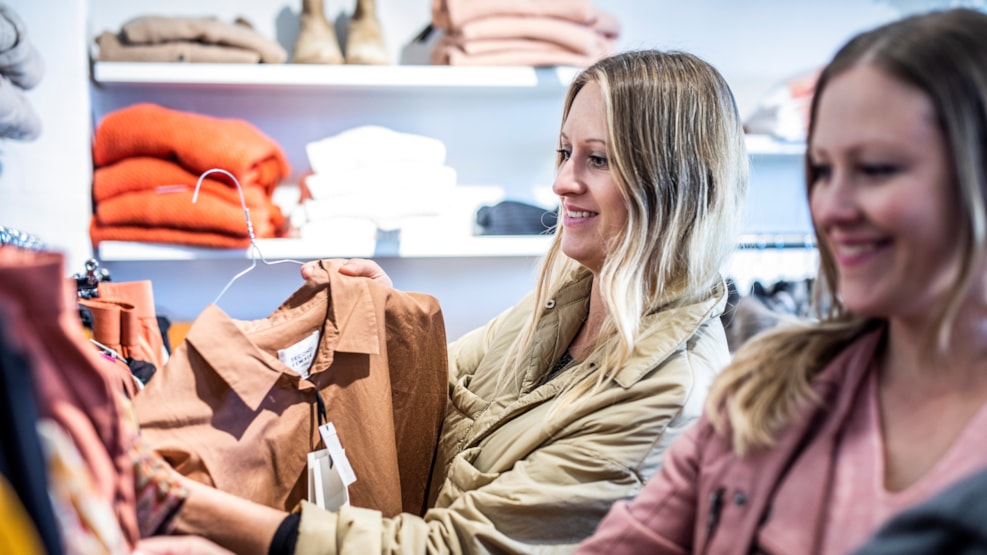 Lykke & Lykke
All roads lead to Lykke & Lykke. Well, at least it is difficult to stroll through the streets of Juelsminde without passing this store – and even harder to stay outside with all the tempting shoes, bags, accessories and colourful clothes rails waiting inside.
Colourful clothing store in Juelsminde
Lykke & Lykke is located at the end of the popular shopping street Odelsgade, a stone's throw from the marina. A wide selection of women's clothing hand-picked by the colour loving owner Malene characterizes the store. Come and look for the perfect party dress weekday dress, a pair of well-fitting jeans, a warm sweater or a fine shirt. Brands include Coaster Copenhagen, Co'couture, Depeche, Neo Noir, Nümph, Pieszak, and Second Female.
Shoes, accessories, and arts and crafts
Apart from a diverse selection of fashion clothing in a wide range of prices, Lykke & Lykke also stores shoes, accessories, jewelry, arts and crafts. Do not be surprised if you walk in to 'have a quick look around' and you end up staying for a long time because you just have to try the newest boots, pet the soft weave towels or consider which candlestick will look best in your windowsill. And you can also find items for the kids such as cute teddy bears and toys from Maileg.
Fashion store with personal service
Lykke & Lykke is truly a fashion store that satisfies your needs, and even if you do not end up buying something, it is an experience to walk around the little but well-assorted lifestyle store. Lykke & Lykke emphasizes welcoming every single customer, and you will surely feel at home here. You can look forward to competent personal guidance focusing on you as an individual. You will always be met with great energy and the best service. Of course, there is also room for you to let your curiosity guide you through the store between the shelves and clothes racks.
Lykke & Lykke on social media
It is no coinsidence that Lykke & Lykke has many loyal customers locally and abroad. For this reason you can also find the items from the store in Lykke & Lykke's web shop. Just like the physical store, the web shop offers a wide assortment, a love for colours, and great customer service.
Find inspiration for the newest styles, receive invitations for fashion shows in the store/online and participate in competitions on Lykke & Lykke's Facebook and Lykke & Lykke's Instagram.