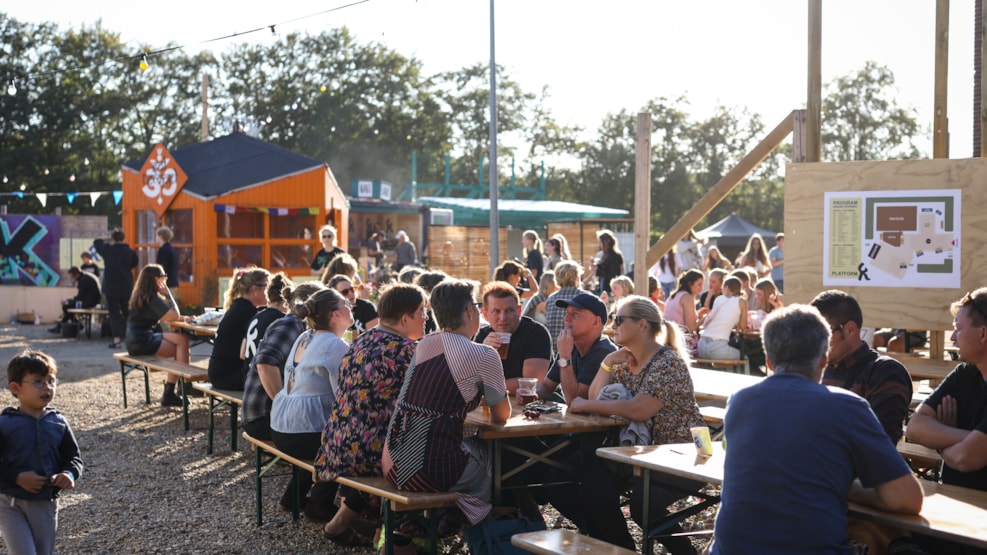 Platform K
Welcome to Horsens' new station for cultural events and concerts - Platform K. 
Platform K - The journey begins here 
Horsens has always had many cultural hot spots, offering different events in different environments. Now, the new big melting pot Platform K will collect the many offers of 'everyday culture' and make it easy for you to find your next concert, talk, workshop, jam-night - or just a cup of coffee and some great company. 
A new venue in historic settings
The original building once housed a mustard factory, and later the local underground community space Det Gule Pakhus. Today Platform K is a mix of the historic industrial building and a new structure made out of recycled containers. Together, the two parts of Platform k embodies tradition and innovation, making the space perfect for creative urban events. 

Platform K consists of a two-story café, a venue room with a stage and bar, studios for band practice and a multitude of outdoor hangout spots, pop-up shops in scattered containers and wooden decks and terraces. 

In this culture-house diversity is praised! Visitors and users include old, young, kids and parents, students, friends, artists, freelancers, networks, and many, many more. During the daytime, Platform K doubles as a student house for the city's high schools and educational institutions - however, do note that everybody is welcome.


Concerts and music
Whether you like rock, pop, indie, folk, rap, jazz, blues, dance, or something completely different, you'll probably find a show at Platform K!

During the spring season of 2023 you can experience: 
Kellermench
Ginne Marker
The Sandmen
Prisma
Ravi Kuma
And many, many more.
See the calendar here and read more about the performing artists and bands. 
Experience everyday culture
In Denmark we have a term called "hverdagskultur". Roughly translated, this means "everyday culture" and refers to casual, cozy, and often creative gatherings, centered around either a hobby, a theme or a topic. Hence, everyday culture can be a workshop in ceramics, a poetry slam night, a painting course, a knitting-group-get-together, or a sing-along around a camp fire. Really, it can be anything, as long as it's rather informal and 'hyggelig'. 

Platform K is a haven for everyday culture and hosts events for any age, gender, and interest. 

See the full calendar right here and join your next everyday adventure!  
Platform K's cafe
In the cafe you will find a large selection of light dishes, snacks, hot beverages, and cool refreshments. 

Start your day with a croissant or a smoothie bowl. For lunch or dinner, try the famous panini or perhaps a salmon salat. 

Whether you prefer an Iced latte, Americano, Latte, Flat White or Cappuccino, the baristas are ready to serve you.  

A sweet tooth, are you? Enjoy the Hot chocolate, Chai Latte, Matcha Latte, a homemade smoothie, a local soda "Bruun Kola", Kombucha or water.
Alcoholic beverages can be purchased for people over the age of 18.
Opening hours in the cafe: 
Tuesdays to Saturdays: 11 am - 8.30 pm

Monday and Sundays: Closed
Opening hours, booking og wayfinding
Outside of the cafe's opening hours, Platform k is open during events.  
See the program or check out Plarform K's facebook page, to stay updated on current events.  
A lot of Platform K's events are free, but some are not - especially concerts and workshops. Book your ticket right here.

How to locate Platform K

Platform K is situated in urban surroundings near Horsens' train station. During the daytime you can walk from the station along a pathway, which starts at the end of the stations' parking lot and goes straight to Platform K. However, the path is not lit, so during the evening we suggest walking along the east side of Godsbanegade to Emil Møllers Gade. From here, you take a left turn and continue down Emil Møllers Gade for 5 minutes till you get to a small road on your left called Madevej. Continue down Madevej for a few minutes.
Looking for more cultural events in Horsens?
In our online calendar you can find a lot more events and cultural happenings in the Coastal Land.